TORQUEBOARDS 40" Drop Deck
THE UNIVERSAL BUILDER's DECK
Introducing our new TORQUEBOARDS 40" Drop Deck.
Built and designed for high performance and insane speeds. This deck was designed to go fast while being the ULTIMATE Universal Builder's Deck.
The TB40 Drop Deck was designed and built to be a universal platform that allows you to change and upgrade your DIY Electric Skateboard with ease. It allows the best riding platform with a nice and firm riding stance with amazing wheel clearance for our comfiest urethane 110mm TORQUE wheels or our 160mm All Terrain Pneumatic Tires for a true 2 in 1 Electric Skateboard.

Out of all the iterations and all the time spent testing and designing different deck options. This simple yet comfortable board was ultimately selected.
We settled on the best option that would have the most flexibility for multiple setups and would be the most universal for many different drive train setups and battery combinations.
DECK LENGTH - 40" Inch Deck
DECK WIDTH - 10.2" Wide
WHEELBASE LENGTH - 30" Wheelbase
FLEX LEVEL - Stiff
PLYS - 17 Plys
CONSTRUCTION - Carbon Fiber, Canadian Maple, Birch
ENCLOSURE CUTOUT - 650mm x 168mm x 15mm
CONCAVE STYLE - Mild Radial Concave
CONCAVE DEPTH - Mild
WEIGHT - TBA
Our 40" Drop Deck was specifically selected due to the universal build platform that it provides in which it's an amazingly comfortable and wide deck that allows you to build your electric skateboard with practically any drive train setup and use any wheels such as our 110mm TORQUE Wheels or our 160mm AT Tires. This allows you to easily change out parts to customize your deck to your riding preference.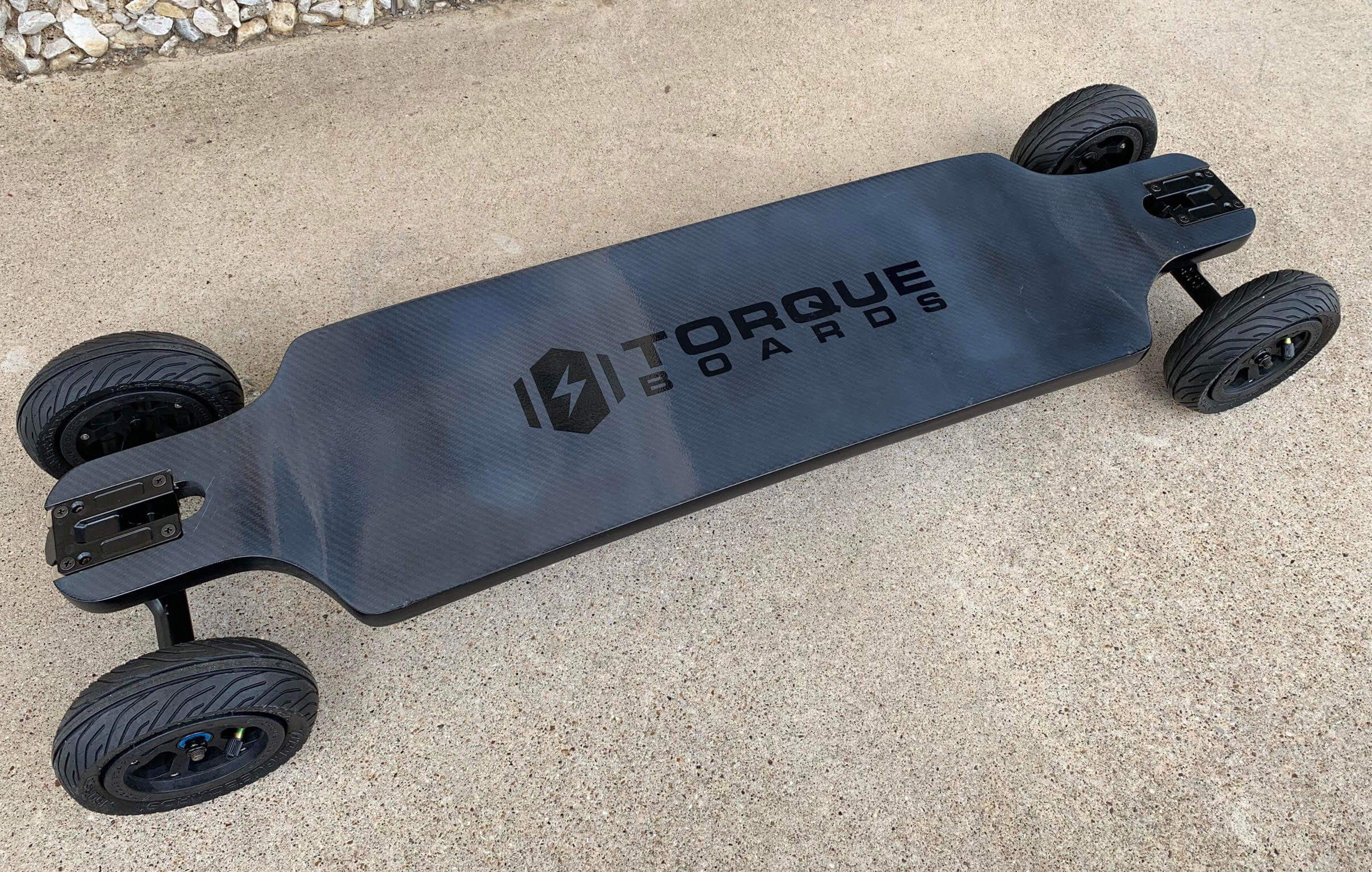 Speed Deck + WIDE Deck WIDTH
This deck is a nice and sturdy speed deck. It can ride lower to the ground due to the drop through + the micro drop with it's radial concave and the foot pockets that the micro drop creates. You'll easily be able to lock in your feet and carve at higher top speeds.
Our 40" Drop Deck comes with a wide deck width at 10.20" which allows a very nice and wide platform for a more comfortable ride as well as the ability to lean and turn much harder without falling off of your deck. Due to the longer width it's also much easier to lean hard and stay on your deck than a typical shorter width deck.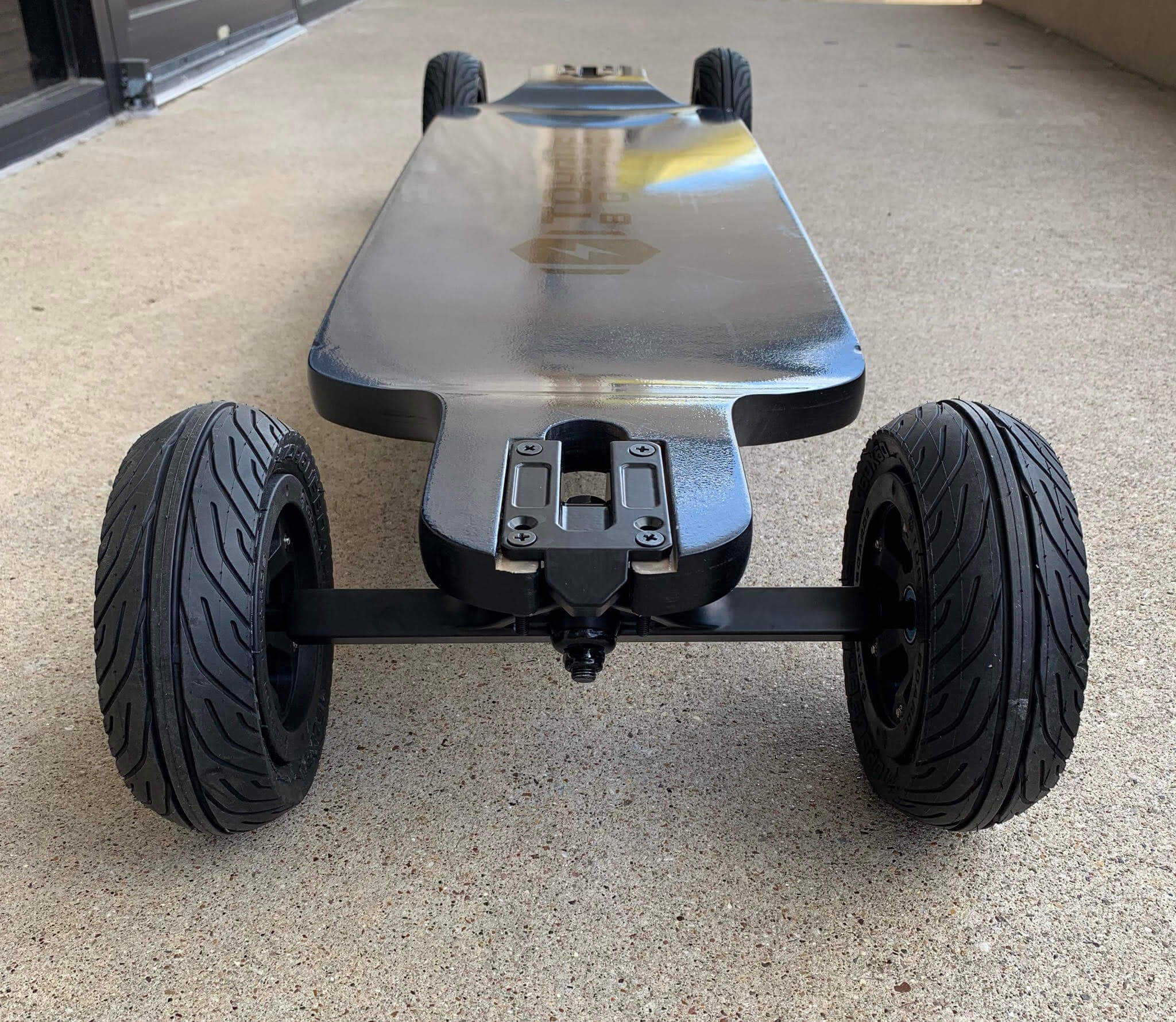 Flushed DROP THROUGH / DROP DECK
A drop through deck has a cutout for the baseplate of the truck which positions the deck to be closer to the ground. The flushed drop through allows the baseplate to sit flushed to the deck without protruding like typical drop through decks.

Due to our typical use of larger wheels for the most comfortable rides when riding an electric skateboard. We went with a drop down deck style as these types of decks will allow you to ride lower to the ground which adds to riding stability.
The micro drip also doubles as a nice foot pocket to have a nice and sturdy riding stance when riding. Your feet are entirely locked in which means you won't have to worry about slipping off the deck.
This allows you to always stay locked into your board when riding when typically people will ride with a foot stop to lock their front foot in place.
Our enclosure cut out for electronics and battery components is 650mm Length x 168mm x 15mm.
The built in enclosure cutout allows a more simple process when assembling your DIY Electric Skateboard components. By having a dedicated section with a pocket to fit all the components you can easily assemble your electronics with ease.

Due to the cutout and the 15mm hidden away within the deck. You setup will look much more sleek as there will only be a very small battery enclosure sticking out from underneath the deck.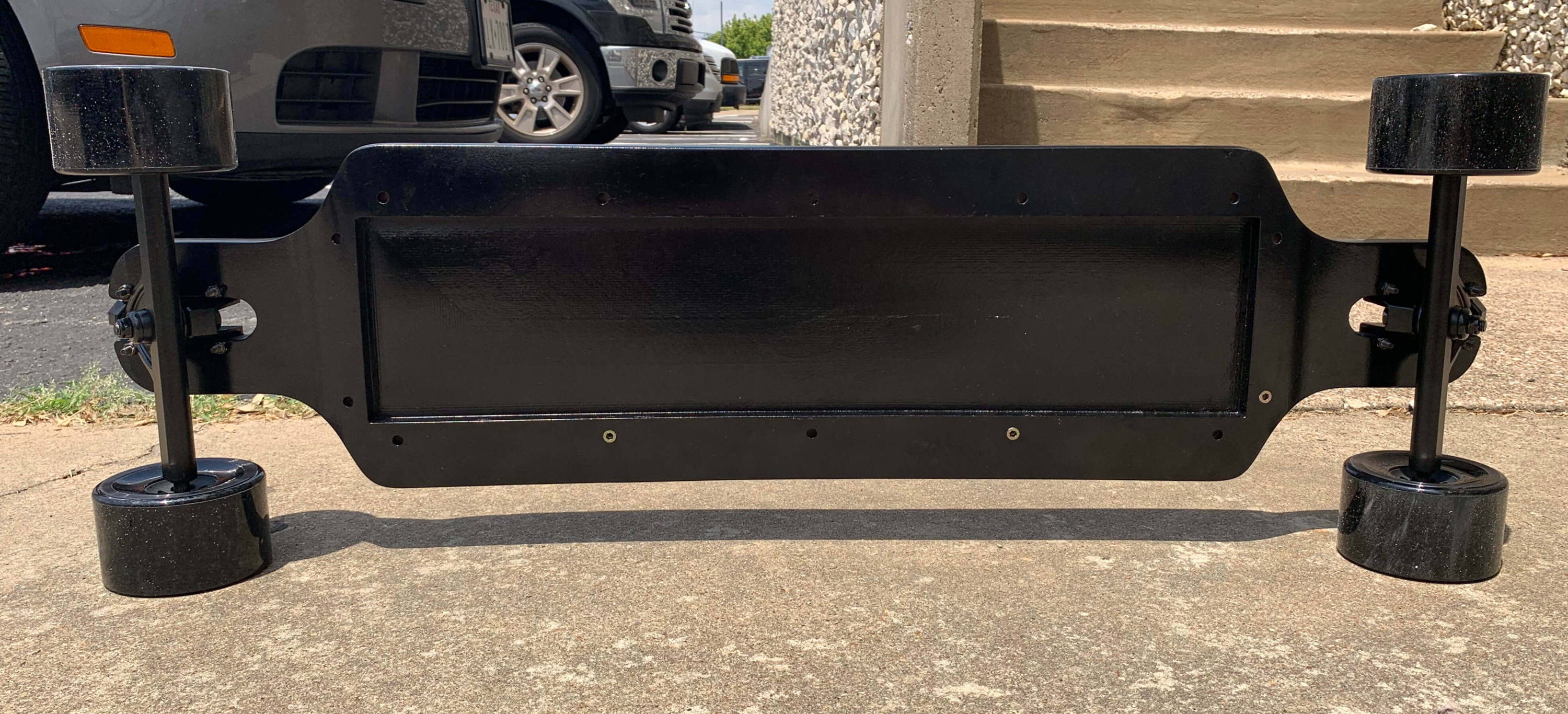 We've included (16) pre-drilled deck enclosure holes that fit with our custom threaded inserts. This allows you to easily bolt on your enclosure with zero issues. If you've ever tried to drill through your deck and enclosure you might have remembered how painful of a task it is. You'll most definitely enjoy setting things up on this deck due the simplicity of our pre-drilled enclosure holes.
Custom M5 Threaded Inserts STAINLESS STEEL
We got rid of the standard brass inserts that always seemed to crack and break. We've replaced them with a custom upgraded stainless steel threaded inserts. Due the better design these new inserts will be able to support a much heavier battery pack.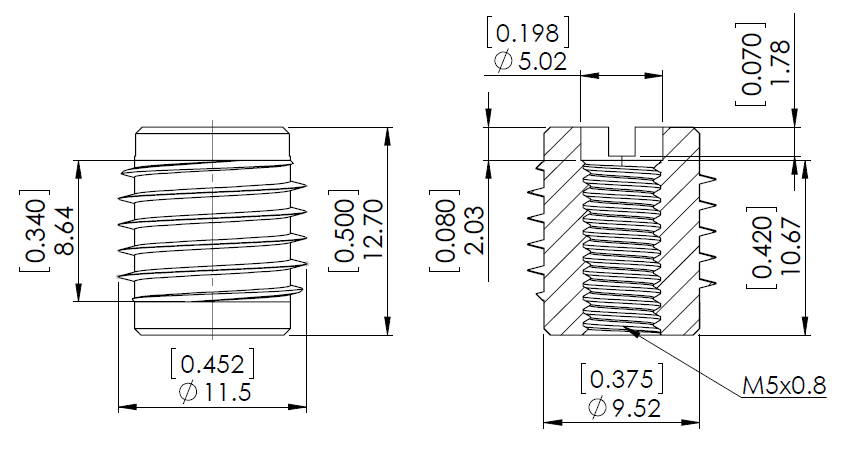 UNLIMITED BATTERY CONFIGURATIONS
You can easily fit a wide range of battery configurations with this deck. You can use 18650, 20700, 21700 Lithium Ion Cells as long as everything will fit in our 650 x 168 x 15 cutout. You can also easily make your own enclosure if you outfit it with your own insane battery pack.
1x 40" Drop Deck
16x Custom M5 Threaded Inserts (Stainless Steel)
16x M5x14mm Socket Cap Bolts (Stainless Steel)
+ Add-ons (IF ADDED)
12S4P v3 Enclosure /
$65.00 Original

/

$40 Pre-Order
Our 12S4P V3 ABS Enclosure will have universal side mounted component cutouts. Battery display, on/off switch, charging ports and battery management system (BMS) will be available for purchase. The enclosure is 4mm thick and Black Glossy ABS finish.
Maximum Battery Size = 500mm x 168mm x 30mm
Maximum ESC Size = 150mm x 168mm x 39mm

12S4P v3F Fiberglass Enclosure /
$90 ORIGINAL

/

$65 PRE-ORDER
Our 12S4P Fiberglass Enclosure will be the same as our 12S4P V3 Enclosure but made out of fiberglass for added durability and a more premiere finish.
12S4P BATTERY PACK (18650 Samsung30Q) / $499.99 ORIGINAL /
$450 PRE-ORDER
We've developed a brand new single stack 12s4p battery pack that is 18-20mm in total height. Built with a custom flexible pcb that will allow the battery to flex.
Our battery can easily allow you to reach speeds above 30 mph and 25-30 mile range.
TB40 Support Bracket /
$35 PRE-ORDER
We've also added a TB40 Support Bracket which you can add over the enclosure to properly secure your enclosure to the deck.
It adds additional support which is highly beneficial for a heavy battery such as a 12S8P battery pack but can also be used for a 12S4P battery option.
*Photo be released soon.
Custom waterproof seal to create a more waterproof seal between the enclosure + deck.
Plan on riding the TB40 in a top mount position? Use our top mount base plate cover?
+ 12S8P Battery Pack (18650 Samsung 30Q)
Plan on riding the TB40 in a top mount position? Use our top mount base plate cover?