Secured and trusted checkout with:
our new... 160MM ALL TERRAIN TIRE KIT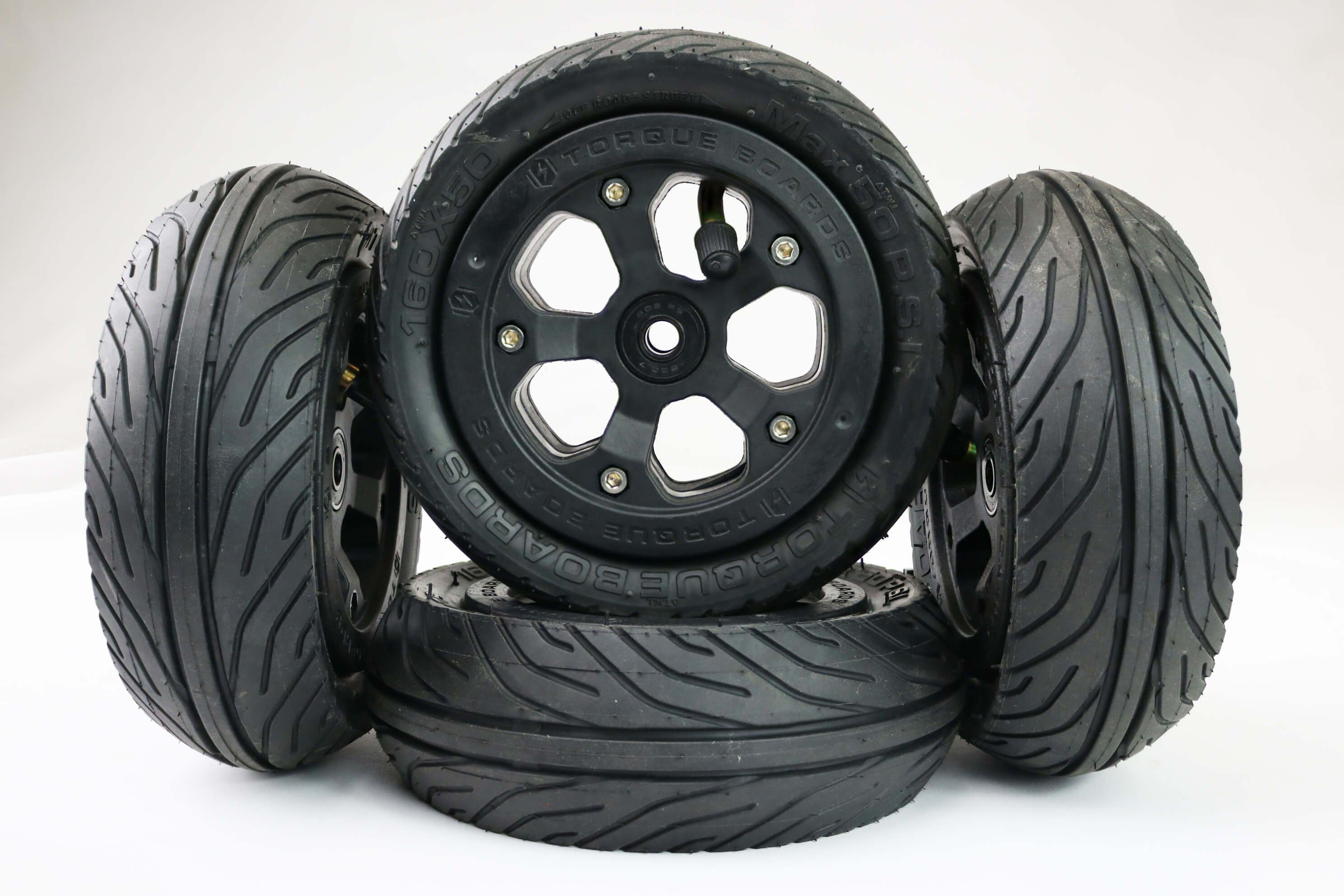 TORQUEBOARDS pneumatic tires
Our CUSTOM 160mm / 6.3" Pneumatic air tires.
these make the comfiest of rides on rough street pavement or dirt trails.
Introducing our new 160 TB AT Tires. They are 160mm / 6.3" All Terrain Pneumatic Tires!
Easily convert your street wheel electric skateboard to a more comfortable ride to cruise on beach paths or ride on dirt trails. Our 6.3" Pneumatic All Terrain Tires built for DIY Electric Skateboards are ultra comfy and soft due the air in our tires. Small enough at 160mm / 6.3" to be portable and easily commute with on your daily route.
We have designed our tire tread for the most horrible streets and rainy street conditions. We've incorporated rain grooves to push water away from the wheel and still have great traction while riding in the rain. Due to the design our tire tread also allows us to flip and rotate our tires in the opposite direction for great grip and traction strength while riding on dirt trails. Our tire tread grooves will act as grip grooves when rotated that help you overcome dirt trails and rocky gravel.

TIRE SIZE - 160mm / 6.3"
TIRE WIDTH - 50mm / 2.5"
RECOMMENDED PSI - 50PSI
MAX PSI - 70PSI
WEIGHT - TBA
NOTE - In rainy conditions, you must ride with the tires facing in the correction "STREET" position. Otherwise, in the opposite "OFF ROAD" direction and it can cause the opposite result and result in hydroplaning.

4x 160mm / 6.3" All Terrain Tires
4x 160mm / 6.3" All Terrain Tubes
4x All Terrain Hub
2x 62T HTD5 15mm Drive Wheel Pulleys
2x 380mm or 2x 410mm HTD5 15mm Drive Belts
1x ABEC7 Bearing Set
Drive Wheel Pulley Recommendation
Comes with our 62T HTD5 15mm Drive Wheel Pulley made out of nylon plastic and reinforced with glass fiber. You can pair it with our standard motor pulleys.
14T/62T with Normal/Inward V6 Motor Mounts = 380mm HTD5 15mm Belt
15T/62T with Normal/Inward V6 Motor Mounts = 380mm HTD5 15mm Belt
16T/62T with Normal/Inward V6 Motor Mounts = 380mm HTD5 15mm Belt
18T/62T with Normal/Inward V6 Motor Mounts = TBA
14T/62T with Reverse/Outward V6 Motor Mounts = 410mm HTD5 15mm Belt
15T/62T with Reverse/Outward V6 Motor Mounts = 410mm HTD5 15mm Belt
16T/62T with Reverse/Outward V6 Motor Mounts = 410mm HTD5 15mm Belt
18T/62T with Reverse/Outward V6 Motor Mounts = TBA
V4 Motor Mounts Normal = NOT Compatible. Motor Mounts too short interference with tire.
V4 Motor Mounts Reverse = Compatible with 410mm HTD5 15mm Belt
V5 Motor Mounts Normal = Compatible with 380mm HTD5 15mm Belt
V5 Motor Mounts Reverse = Compatible with 410mm HTD5 15mm Belt