Why Build A DIY Electric Skateboard?
We strive to make building an electric skateboard easier than ever before this way you can get all the benefits without the headache and confusion. Most people think building an electric skateboard will be hard and confusing and you need special tools to get the job done. But we've designed an electric skateboard kit to be easy to learn so beginners can start riding in no time.
We are committed to providing a stress free process with no confusion and no headaches approach to building a high performance electric skateboard that gives you the best electric skateboard platform that will last you for years to come.
Here are 9 Reasons Why You Should Build A DIY Electric Skateboard.
1. Easy To Use, No Confusion and No Headaches
Easy to use with no confusion and no headaches. We offer step by step video instructions so you can build your electric skateboard with ease. Our electric skateboard kit is designed to be plug and play so you can easily install, repair and replace any part of your electric skateboard with ease with only a few tools.
✅ EASY TO USE - We offer a simple solution to build a high performance electric skateboard with step by step video tutorials which we guide you step by step along the way from opening the box and installing the first part and to the very last part to get you a fully functioning high performance electric skateboard.
✅ NO CONFUSION - No longer do you have to worry about compatible parts and if this part fits with this part of do I need this also? Too much confusion only to realize you're left with parts you don't need. You've paid many dollars extra in multiple shipments and some from overseas that cost you way too much money.
✅ NO HEADACHES - We make the process easy and simple for you to build your own high performance electric skateboard kit in record time with ease and without confusion and headaches.
An Electric Skateboard designed with a proper upgrade path allows you to get many additional years of use out of your original electric skateboard purchase. We have created an upgradeable path designed in a way in which you can upgrade your existing electric skateboard instead of purchasing an entirely new electric skateboard. If you decide that you enjoy it and want to upgrade, you can easily do so. Here are some of the different ways in which you can upgrade your TORQUEBOARDS Street Electric Skateboard.
✅ Upgrade to a larger electric skateboard battery pack for up to a 50 mile range electric skateboard. These are TRUE real world mileage range and not bogus claims.
✅ Upgrade to Reverse Kingpin CNC Trucks for a more stable ride and feel for higher top speeds. You decide. Easily, swap between different trucks to keep it more nimble for sharp turns or keep it more stable for higher top speeds.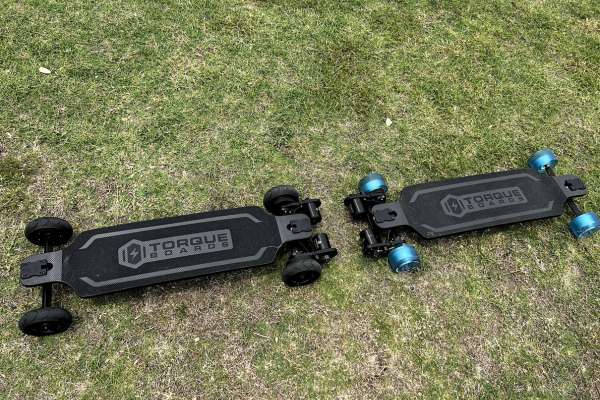 ✅ Swap to 110mm diameter Urethane Street Wheels for a street setup.

✅ Swap to 200mm diameter All Terrain Pneumatic Tires for a street/off-road setup.
✅ Upgrade to a different/newer style wireless remote.
✅ Upgrade to install a digital dashboard on your electric skateboard.
✅ Install a bluetooth module to program your ESC wirelessly and through mobile.
✅ Upgrade to a gear drive to experience an entirely different drive train system.

We have many customers wanting to upgrade older electric skateboards but due to proprietary builds and non-plug and play components it makes it very hard and difficult to upgrade to the latest and upgraded electric skateboard parts.
Due to pre-built electric skateboards solely focusing on affordability many components that could have additional life span for a few extra dollars are not included as they are simply designed to be a one off electric skateboard and to effectively upgrade they want you to buy an entirely new electric skateboard to be purchased.
Which ultimately means that with a mass produced electric skateboard parts are picked for affordability and not longevity as well as cost cutting.
3. Learn and Gain Knowledge
Learning new skills for electronics and engineering is a great skill to learn. You can learn a lot by learning how to build your own electric skateboard with our help it's even easier. We're an open book and we share with you step by step video electric skateboard tutorials on how you can easily build your own electric skateboard straight from the box step by step with no confusion or headaches. We actually send you all the details directly to your email after you purchase and we guide you through the entire process this way you have the best experience. You can easily see all the step by step instructions located here as well.
If you have any issues along the way, simply send an email to our support team and we'll assist in getting you riding again. We pro-actively update our tutorials to get you all the information you need at your finger tips without any delay.
Not only do we have our high performance electric skateboard kits available as our main product but we have many tutorials on how you can build your own custom diy electric skateboard with our electric skateboard parts if you are inclined to try a more full on DIY Electric Skateboard. We'll guide you in the right direction so you can build what you truly want.
✅ STEP BY STEP VIDEO TUTORIALS - We have a step by step video tutorial for our diy electric skateboard kit which will guide you from the unboxing, installing the first part and the last part and going on your first ride. No confusion and no headaches we help you along the entire process.
✅ BEGINNER ELECTRIC SKATEBOARD TUTORIALS - Want to learn about electric skateboard safety? Want to build another electric skateboard with a different deck? What helmet should you wear? and many more tutorials.
✅ ADVANCED ELECTRIC SKATEBOARD TUTORIALS - Want to build a 4WD Electric Skateboard? Want to build a mountain board electric skateboard? Want to use a specific deck or enclosure?
❓ Have a question? Send us an email and we'll make it into a tutorial.
Our electric skateboard kit is specifically designed to be the best solution for a high performance electric skateboard and it's sole and intended purpose at a great and affordable price. Our kits aren't designed for simply being a cheap and affordable price. Typically, buying an electric skateboard with the sole purpose of price alone will result in a lower quality of parts that will diminish the overall performance and quality of the components on your electric skateboard which will affect the long-term durability as well as the high performance aspect of a high quality electric skateboard.
A few things that many manufacturers will do to cut costs would be to use a much smaller motor. It may be sized similarly but the internals of the motor are lower in quality and the actual length of the motor internals are much smaller. This can result in motors overheating quicker and faster as well as not being able to sustain the abuse of long distance riding or climbing significantly steeper hills.
High quality battery packs with a higher quality battery cells will be more expensive than cheaper battery packs with lower quality battery cells. The difference in price for a lower quality battery can be $100s to $500+ difference depending on the battery pack. Ideally, you want a battery pack of the highest cell quality in which you can sleep at night knowing that you have a high quality battery cell and you're battery pack will last thousands and thousands of miles. Making sure that you purchase a high quality battery pack from the beginning is the very best thing that you can do as purchasing an inferior low quality battery pack will force you into having to buy the high quality battery pack anyways once you realize that the lower quality battery pack didn't give you the high performance and/or the long distance riding that you truly needed.

Our electric skateboard kit is ideal in which we want to give you the best high performance electric skateboard solution at an affordable price without breaking the bank. This allows you to get the high performance that you need and waste less money on what you don't need and save it for the future when you decide that you want to upgrade your existing electric skateboard to bring it some new life or excitement again later in the future. Truly, the best setup for anyone looking to buying an electric skateboard and not wanting to waste any money on cheap inferior boards.
5. Repair-ability and Cost Savings
Repair-ability is an important benefit to consider when purchasing an electric skateboard. You can save money on purchasing a single replacement component vs having to buy an entirely new electric skateboard. We get many questions on repairing electric skateboards that either are now closed for business or no longer sell any replacement parts and because of being a proprietary electric skateboard it's very hard to find new replacement components to get the board up and running again. Ultimately, they'll have to buy a new electric skateboard and most likely if it's not a diy electric skateboard platform it will once again be a proprietary board that will still not have full flexibility for repair-ability.
Our electric skateboards are designed with standardized holes and fitment and most measurements we include on our electric skateboard tutorials and our product pages which allow you to create your own custom made parts if you have the need and skills to do so. We sell all of our parts individually as replacement parts so repair-ability is simple and ease with all of our components being plug and play. We have no proprietary parts which make future compatibility much easier.
Ultimately, being easy to repair and not having proprietary components will result in hundreds of dollars saved in cost savings if not thousands. No need to buy an entirely new electric skateboard if a single part is damaged and needs to be replaced. Save time and money from having to ship your board out and wait weeks to ride again when you can easily screw in or plug in a new component in a few minutes.
6. DIY Platform (Non-Proprietary)
Buying an electric skateboard based on a diy platform gives you true flexibility as nothing is proprietary. You can easily purchase similar motors that will most likely be compatible if not minor modifications. There are additional remote options also available as well. Our electric skateboard escs are the brain of the electric skateboard and they are based on open source technology which allow you to use other products that are designed for it which will also be compatible with your TORQUEBOARDS Street Electric Skateboard Kit.
We include all the measurements on our step by step tutorials and our product pages that allow you to see if our products are compatible with other current, existing and new products.
You can easily create your own custom made parts if you have the need or skills to do so. We provide a basic high performance electric skateboard kit at an affordable price that is perfect for most of our riders. If you need custom work done, it's easily doable with a diy electric skateboard platform with no proprietary components.
7. High Quality Parts and Durability
We always strive towards building a high quality electric skateboard kit that's simple and ease to use. Since you are able to assemble and install the electric skateboard kit in the convenience of your own home with our step by step video tutorials. We are able to pass on the cost savings to you.
In turn, our components are built for high quality reliability and durability as we simply don't need to cost cut to create an affordable proprietary electric skateboard. We're able to include higher quality components at cheaper price points than proprietary pre-built electric skateboard with no upgrade-ability pathways. No longer do you have to settle for one time use electric skateboards that depreciate overtime.
You get the best of everything at an affordable price with the ability to upgrade to even more advanced drive train systems or replace with bigger batteries to increase your mileage range and total usage and future lifespan from your electric skateboard or much more!
8. Reliability and Safety
Our electric skateboards are designed to be high performance electric skateboards due to this we use reliable and high quality components. Since our goal isn't cost savings we are able to provide high quality components which are reliable and durable which will give you more use from your electric skateboard.
With our step by step video tutorials we include many maintenance and repair videos to make sure that you learn how to check your electric skateboard properly and you can perform board maintenance at specific intervals keeping your board running perfect at all times and knowing that it's reliable and safe.
We are located in Dallas, TX which puts us in the center of the United States which allows us to send replacement parts ASAP. Buying from a US based retailer allows for better access to better warranty and support services. Local shipping costs can also help save you more money.
I hope this helps you in your journey on deciding if and why you should build your own diy electric skateboard. We hope you can see why we've chosen to build a diy electric skateboard and all the benefits you'll get doing it this way.
If you have any questions or concerns. Do send us an email!
Looking to get started and ride your own electric skateboard?
For a limited time at limited quantities, we are have our pre-built electric skateboard TORQUEBOARDS Street.
Get them while they are in stock and ready to ship. Quantities are LIMITED!