BOXED & READY TO SHIP in 1-2 days!
LIMITED QUANTITY AVAILABLE. USA SHIPPING ONLY.
CUSTOM DIY BUILT DUAL MOTOR ELECTRIC SKATEBOARD
We are EXCITED! to release our new Pre-Built COMPLETE. The TORQUEBOARDS Street Board.
We have limited quantity of units pre-assembled and ready to ship out within 1-2 days for USA customers ONLY.
Built with all PREMIUM parts designed for the ULTIMATE durability and with a DIY Electric Skateboard platform in mind.
The PERFECT entry into a High Performance DIY Electric Skateboard without assembling your own diy electric skateboard kit.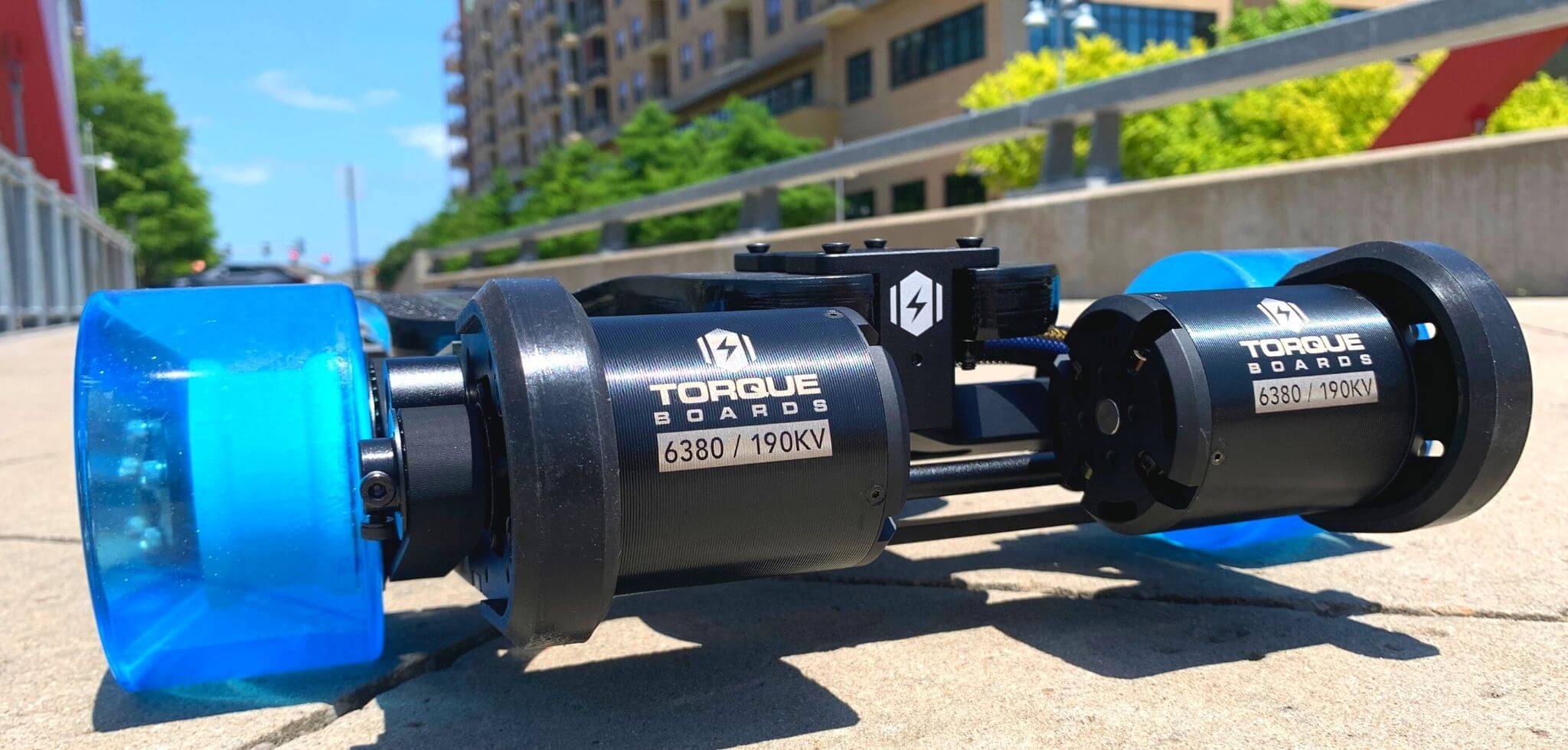 We use our CUSTOM designed 280mm Wide CNC Trucks that are 24mm THICK. Our previous trucks were 220mm wide and only 18mm thick. We've increased the thickness to 24mm thick that's 33% increase in strength. Due to the wider trucks and increased thickness this allows your riding platform to be solid and rigid at high speed. No flopping around with the road anymore. We increased the length of the truck so you can lean harder on corners.
TORQUE6 ESC provides impressive upgrade on torque and smoother acceleration while being built for reliability and long-term durability. TORQUE6 ESC is a huge improvement over our previous TORQUE ESC which can be easily noticed on your first ride.
Our TORQUE6 ESC handles all builds flawlessly and have been tested on high power, high performance boards.
For extra ESC cooling, we have also developed a TORQUE6 External Heatsink for those who are extremely aggressive on the throttle and would like even better ESC cooling performance.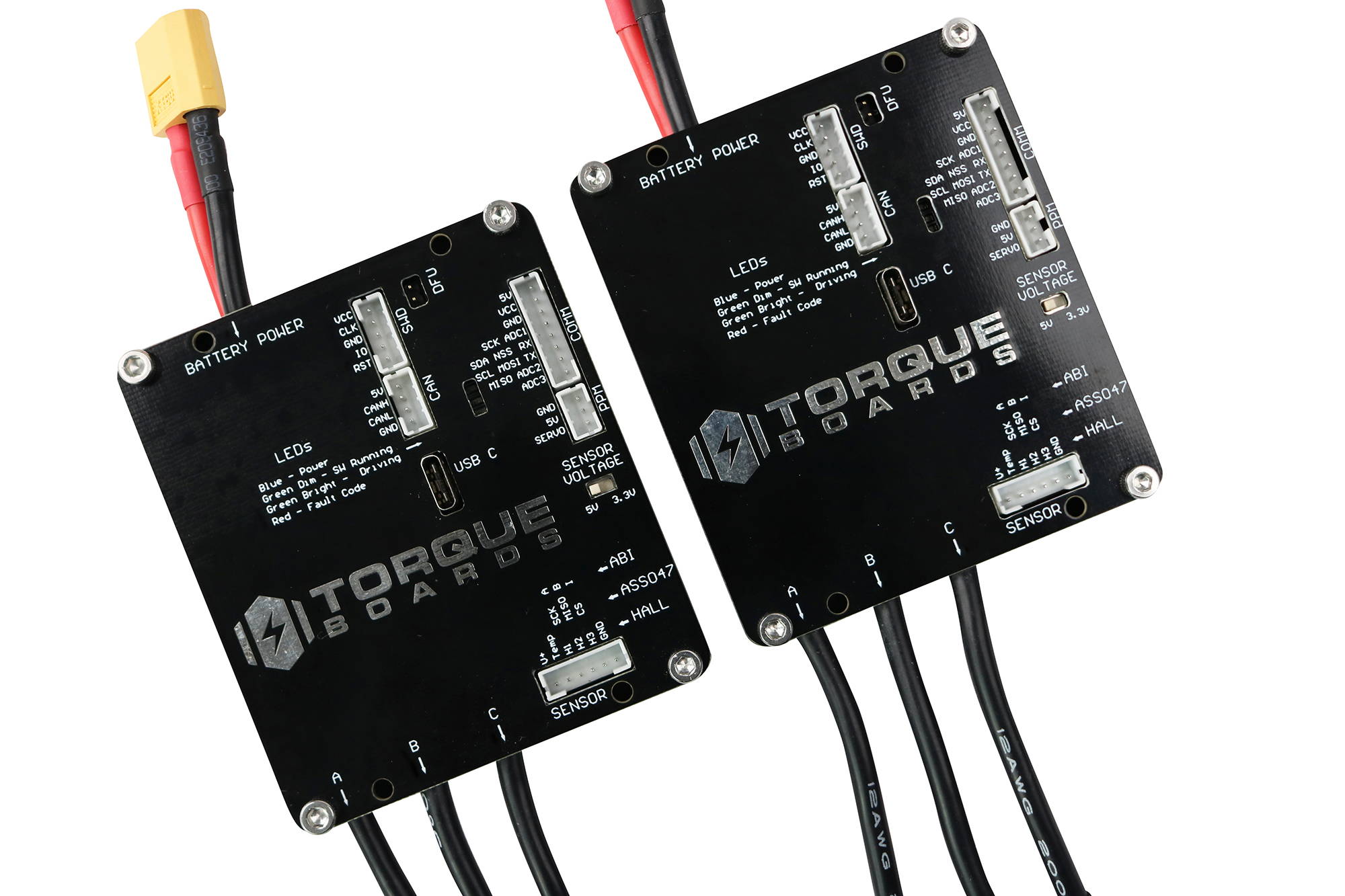 TOP SPEED - 35-40+ MPH. Ability to change motor pulley for increased speed or less speed/more torque.
MILEAGE RANGE - 25-30 mile range
MOTORS - Dual 6380 190KV Motors. OUR BIGGEST Motors!
MOTOR MOUNT - Dual V7 Motor Mounts (12mm Thick CNC Aluminum) with 15mm Thick Truck Clamps.
BUMPER GUARDS - Rubber Bumper Guards to Lean Board against a wall.
BATTERY - 12S4P 50.4V 12,000mah 18650 Samsung 30Q Custom Battery Pack
DECK - Custom Deck Design, Extra Durable 17 Layer Composite Deck includes 1 ply Carbon Fiber, 5 ply Fiberglass with built in battery compartment.
ENCLOSURE - Extra Thick 5mm Battery Enclosure form fitted to the custom deck design for sleekness and increased dirt and water resistance.
ENCLOSURE SEAL - Rubber seal between deck and enclosure for increased dirt and water resistance.
TRUCKS - Exclusive 280mm Wide CNC Trucks with EXTRA THICK 24mm Hangers and Extended Axles paired with RipTide Bushings and a 45D Front Baseplate and 25D Rear Baseplate for increased stability at high speeds. *Only available for our TORQUEBOARDS Street Complete Board.
BELT GEARING SETUP - Paired with 40T 15mm WIDE KEGEL pulleys and a 15T 15mm Motor Pulley.
WHEELS - 110mm Arctic Blue TORQUE Wheels
ESCs - Dual TORQUE6 ESCs
HEATSINK - Extra Thick Aluminum Heatsink with rubber seal. Never worry about an overheating ESC.
REMOTE CONTROL - TORQUEBOARDS VX1 Remote