RIDICULOUSLY FAST, SMOOTH & ULTRA SILENT...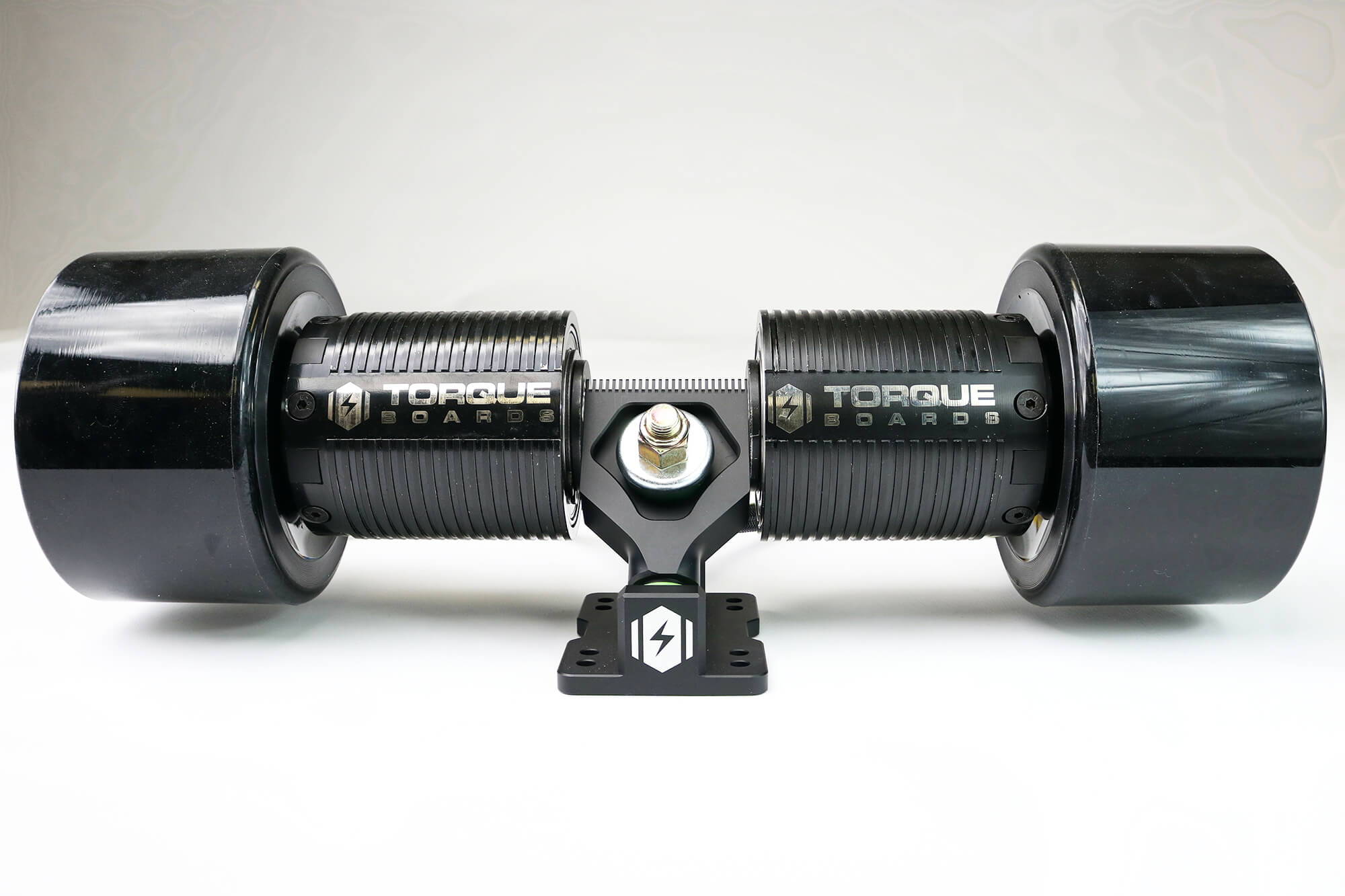 TORQUEBOARDS DUAL DIRECT DRIVE MOTOR KIT
One of a kind... custom designed direct drive motor system built from the ground up with a focus on performance and reliability.
Why You Will Love The TORQUE D-Drive Motors!
We are proud to release our new TORQUE D-DRIVE MOTOR KIT. It's the latest in Direct Drive Motor Systems for High Performance Electric Skateboards. We've spent countless hours and iterations on building a truly reliable direct drive motor that will survive the daily abuse of your daily commute or aggressive leisure rides.
You will be amazed at how smooth the new direct drive motors feel on your feet when riding. Our direct drive motors is the most requested product of all time. They provide insane amounts of torque and smooth acceleration from a stop and are built for reliability and dependability from the ground up with no cost spared. Using the highest quality of materials we want your new direct drive setup to last you thousands of miles of exhilarating fun.
The new direct drive motors are equivalent to a Dual 6374 Belt Drive System for a top speed of 35+ mph with buttery smooth acceleration and take off power. Best paired with our full urethane custom made 110mm x 65mm wide REALLY BIG WHEELS (TB110) which are Made in California.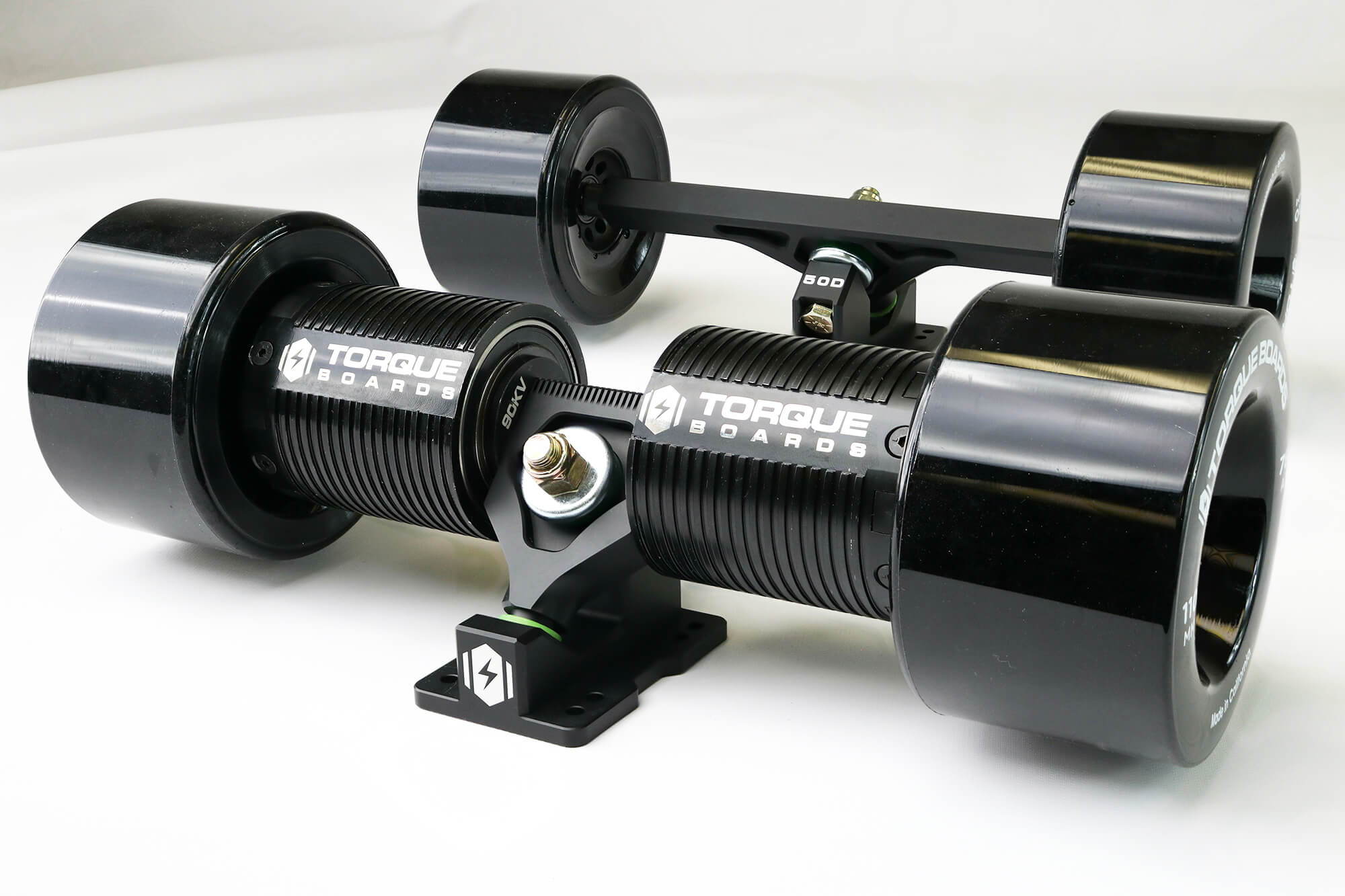 The Technology and Features Behind
The TORQUEBOARDS Direct Drive Motors
DIRECT DRIVE MOTOR DESIGN
After multiple iterations and previous hub motor testings. We ultimately wanted a direct drive motor system that would last thousands of miles.
We choose to design upon a Superior Direct Drive Motor design vs an inferior In-Wheel Hub Motors design.
The main reasons are simple:

1. Increased Durability and Reliability
2. Superior Heat Dissipation
3. Full & Thicker Urethane Wheels
4. Swappable Urethane Longboard Wheels.
Everything you could ever want in a high quality direct drive motor built for a reliable high performance electric skateboard.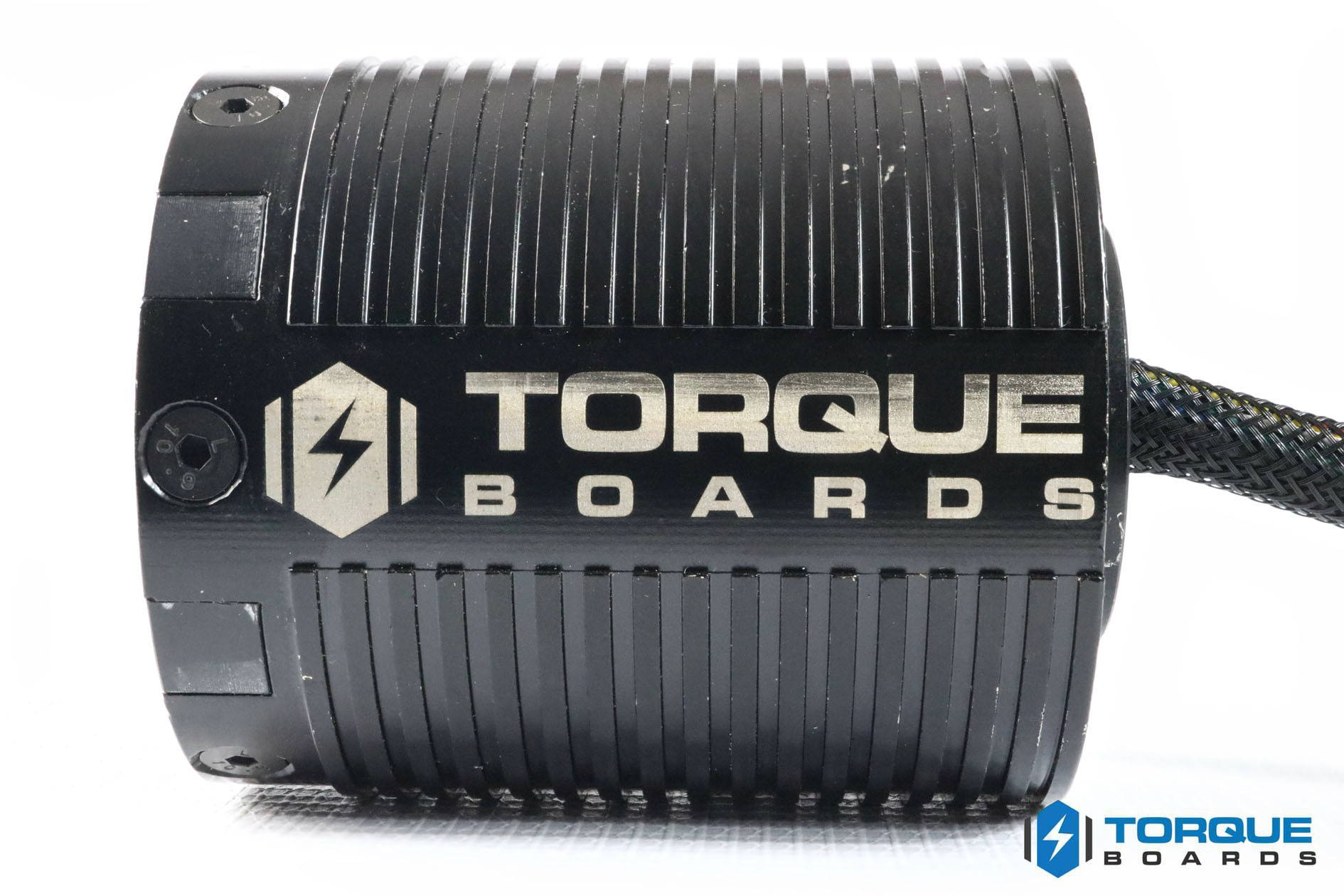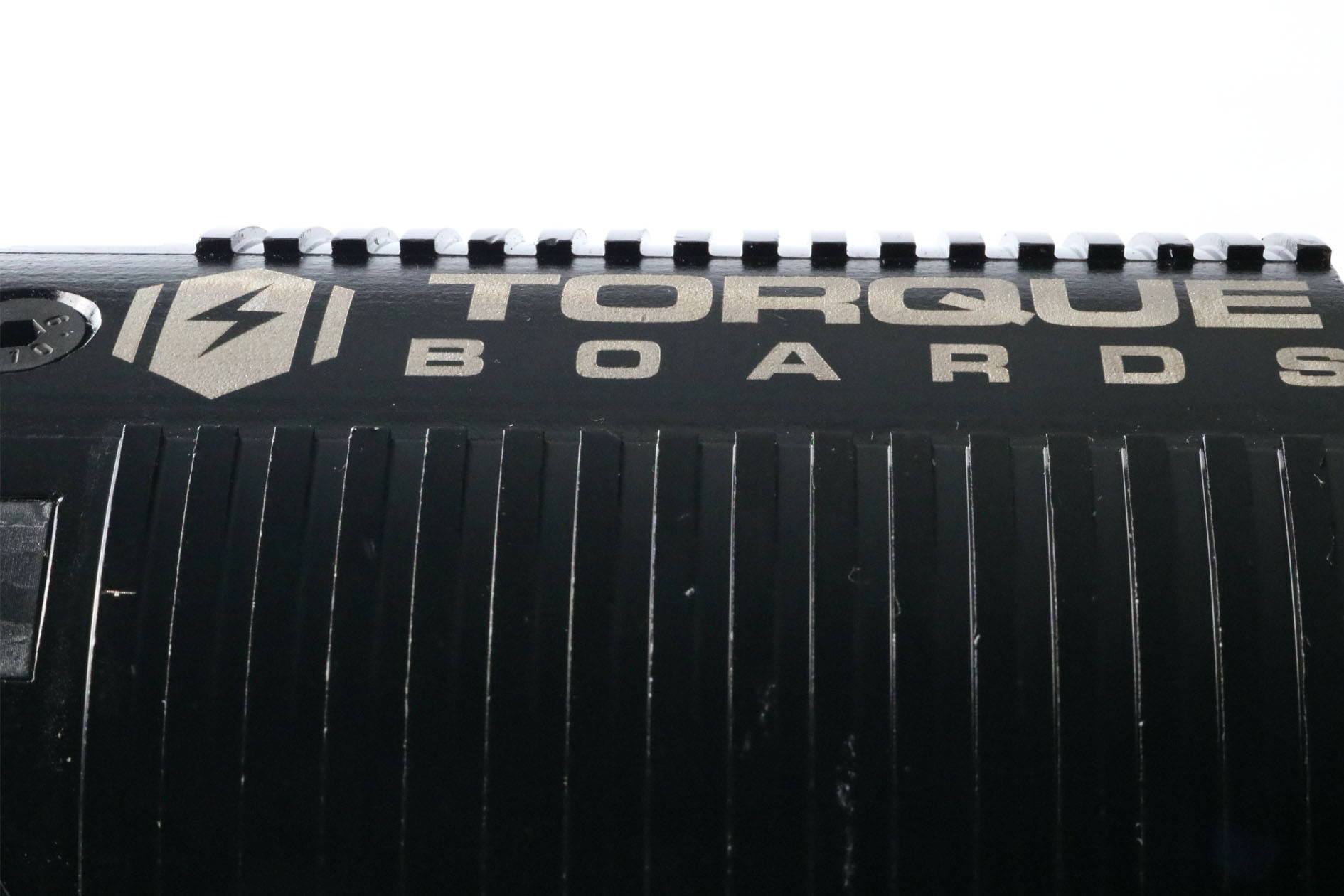 MOTOR TYPE -
DUAL DIRECT DRIVE MOTOR
MAX SPEED - 35+ MPH (75KV) / 45+ MPH (90KV)
MAX POWER - 4000 WATTS Per Motor
MAX AMPS - 80 AMPS Per Motor
KV RATING - 75 KV or 90 KV
MAX VOLTAGE - 12S (50.4V)
MOTOR WEIGHT - 3 LBS 3.4 OZ
MAX INCLINE - 30%
MOTOR CAN DIAMETER - 70MM
MOTOR POLES - 28 Poles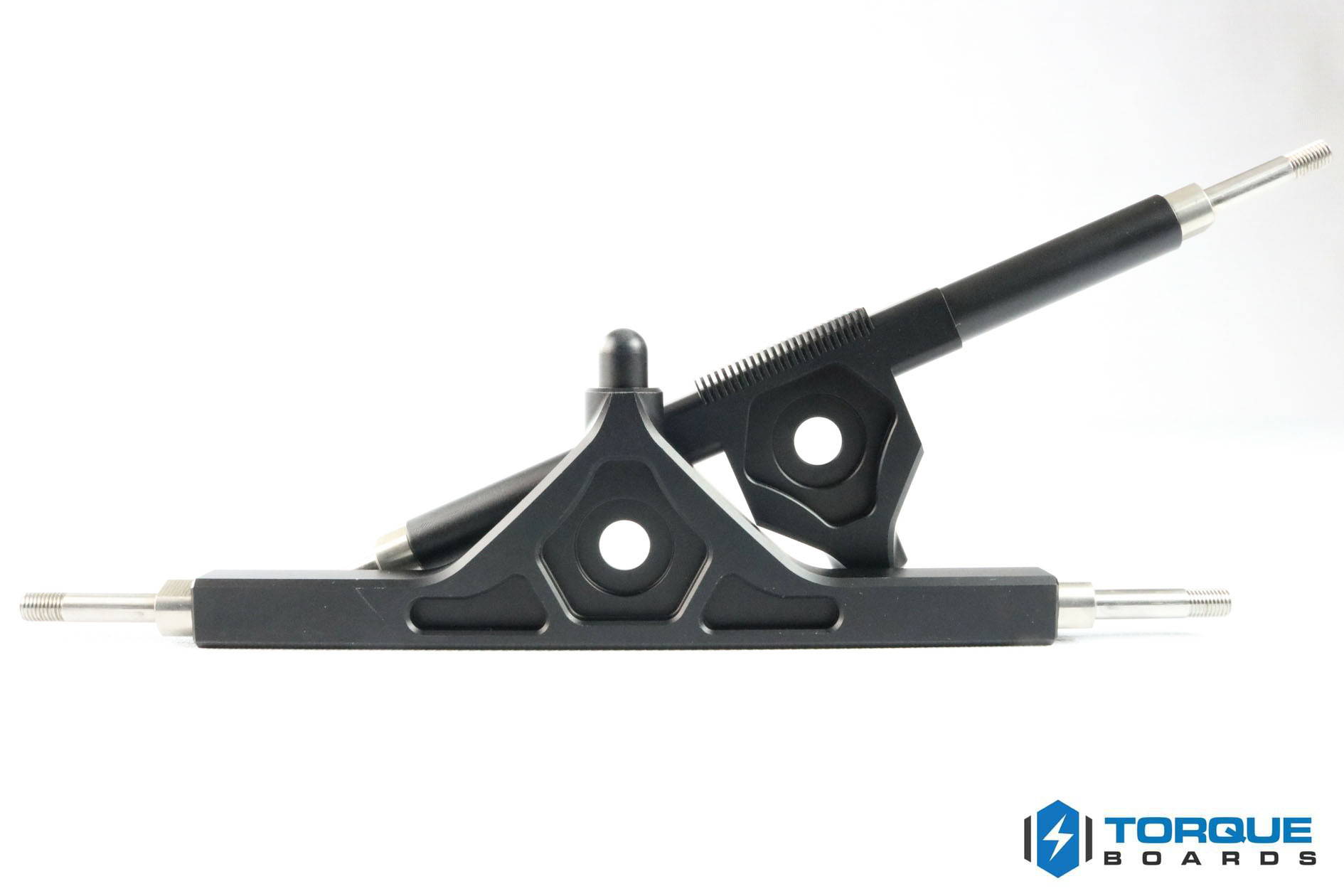 7075 Precision CNC Trucks
Two Precision CNC RKP Longboard Trucks and base plates machined from 7075-T6 Aluminum. Both front and rear truck as well as our 50 Degree Baseplate.
We ultimately choose 7075 Aluminum over 6061 Aluminum or Casted Aluminum for a much more reliable and durable setup.
7075-T6 Aluminum has a tensile strength of over 70,000+ PSI.

All parts will be finished with a Glossy Black Hard Anodize Finish to be durable against the worse of conditions while riding in rough terrain.
Oversized Industrial Support Bearings
Bearings play a huge part in building a high quality electric motor that is meant to last the abuse of an electric skateboard motor.
We purposely engineered to fit oversized industrial radial bearings in a very small electric motor. Our support bearings are 21mm long which support the entire 78mm long steel motor can which equals 26.92% of the internals of our electric motor are bearings. Typical hub motor designs use thinner 6-8mm wide bearings which cannot withstand the abuse of an electric motor which we ride on.
Bearings also allow for a precise air gap between the motor can (rotor) and stator as well as resulting in an efficient, low noise motor with long service life.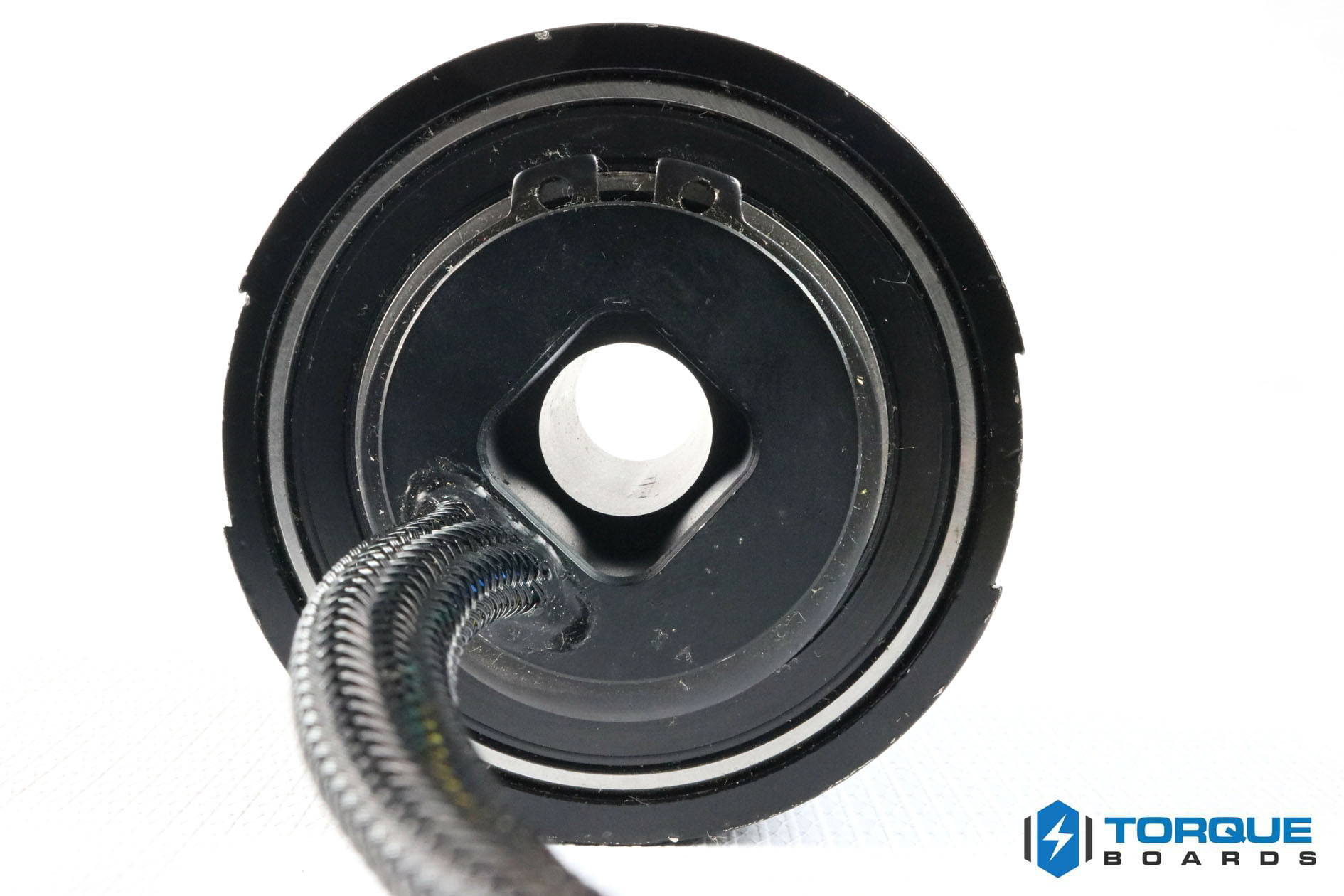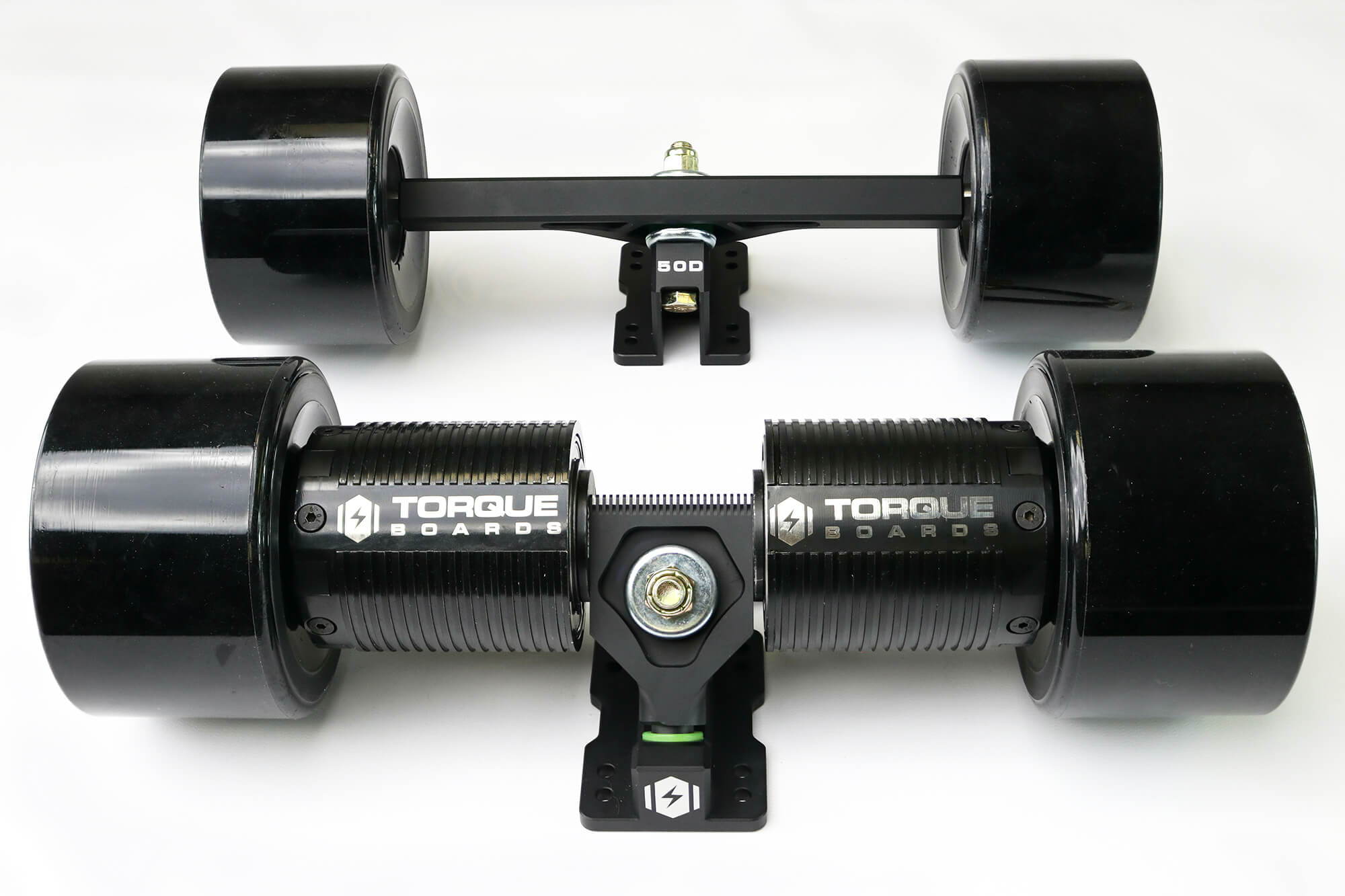 Mechanically Overengineered Direct Drive Motors
We wanted to over-engineer our mechanical design for our direct drive motors to prevent any failures due to the aggressive nature of terrain and heat that are inherent in an electric motor.

For this reason we've added the following upgrades to our motor design.
- Direct Drive Motors > In-Wheel Hub Motors
- 4MM Thick Steel Motor Can Thickness
- 10MM Thick Front Motor Cap
- Swappable Wheel Adapters for Full Urethane Wheels
- 16MM 7075 Aluminum Hanger for TORQUE D-DRIVE MOTORS.
4MM Thick Steel Motor Can

An ultra thick steel motor can will help protect the internal magnets and provide a solid foundation for the motor to handle the abuse of rough terrains while riding.
Integrated heatsink fins on our motor can that also helps to dissipate heat.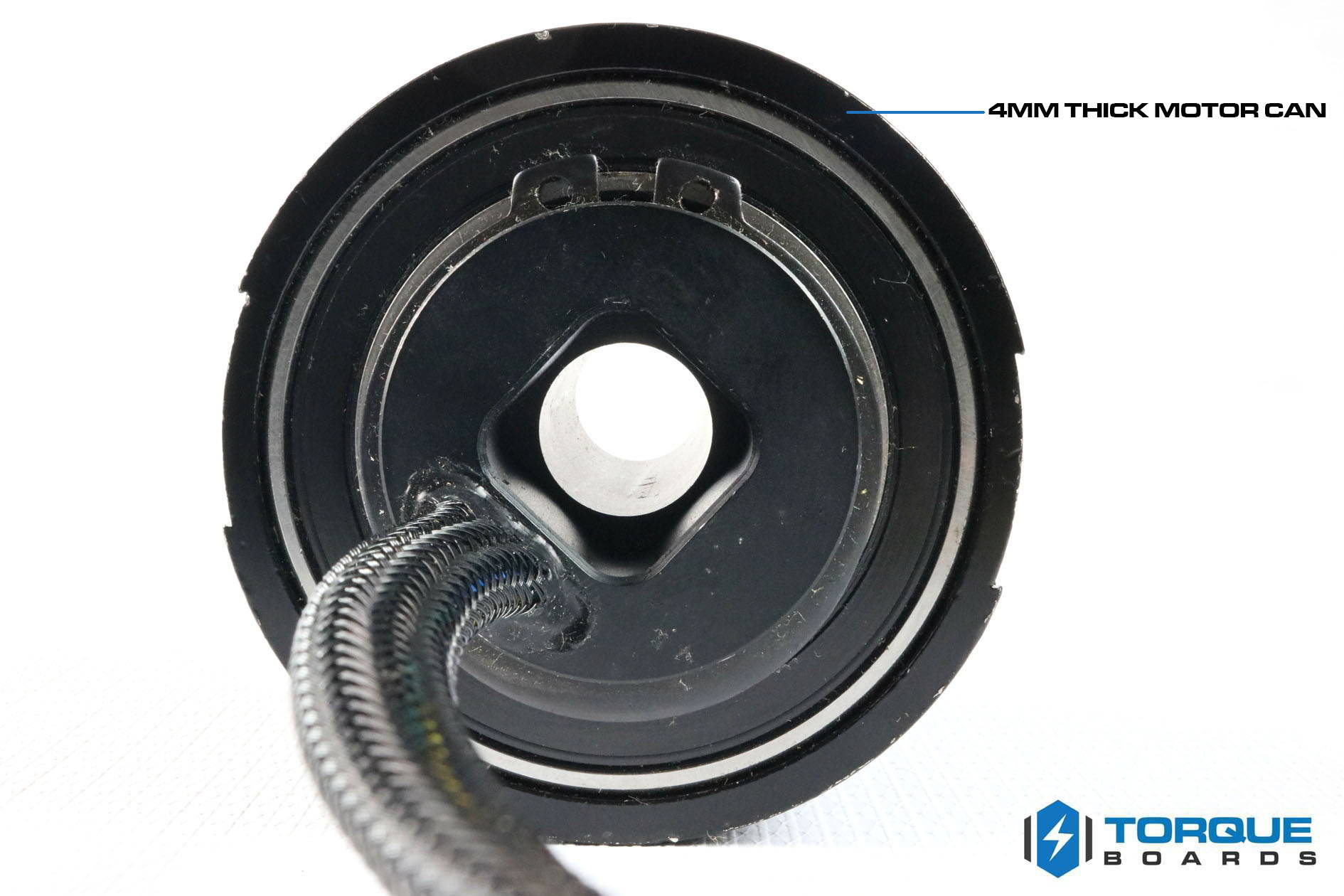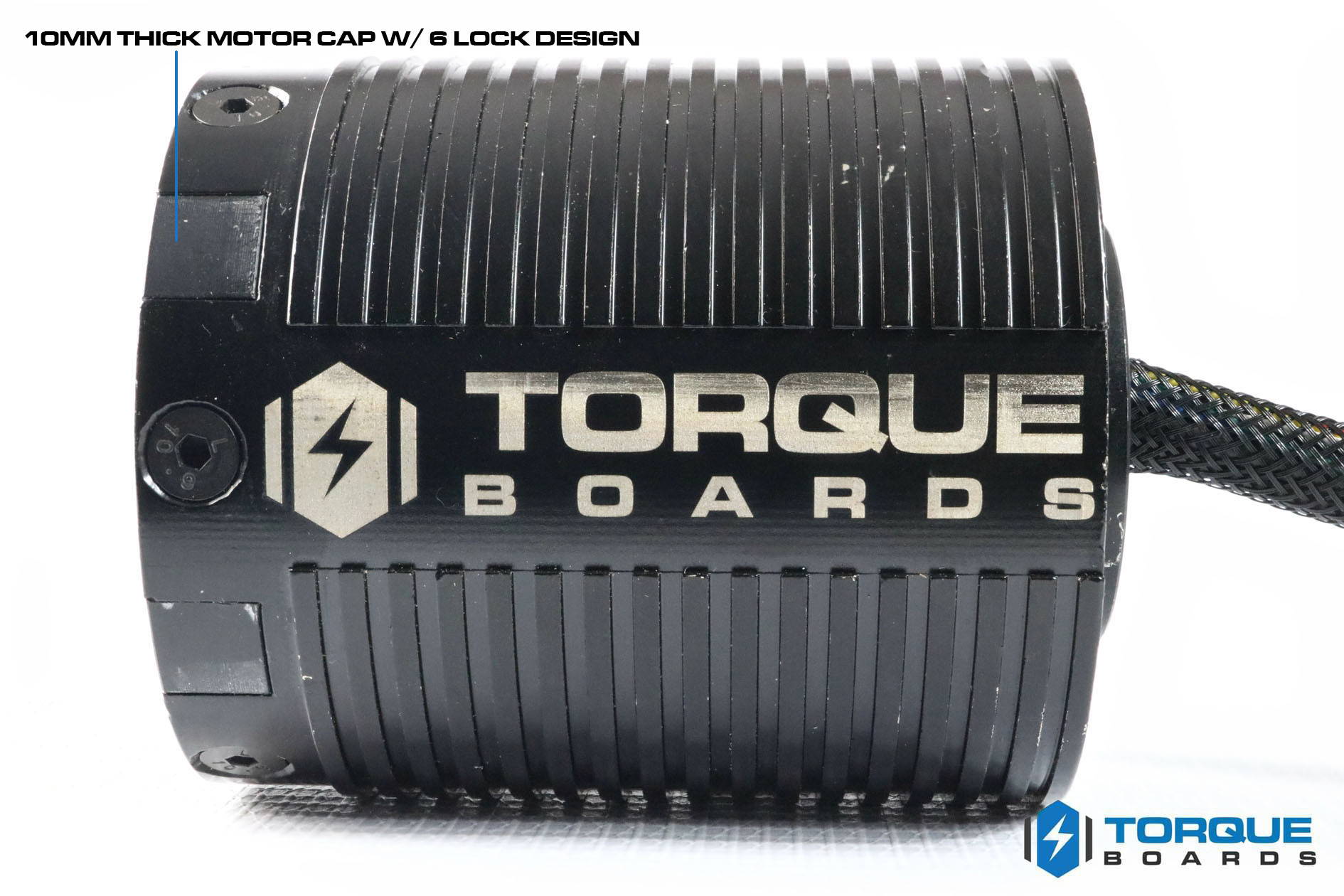 10MM THICK MOTOR CAP DESIGN
A 10mm thick aluminum motor cap helps to dissipate heat by providing more surface area as well as providing a great amount of depth for a solid wheel adapter that can sustain the torque driven to the wheels.

Swappable Wheel CORE Adapters

7075 Aluminum Wheel Adapters for the two of the most popular wheel cores used in Electric Skateboards.
The Kegel and ABEC Wheel Core Adapters.

Our wheel core adapters are mechanically connected to the motor can (rotor) and not held onto the motor can with only steel bolts like inferior in-wheel hub motors. This process adds to the CNC Machine Time and thickness of aluminum used which adds to cost.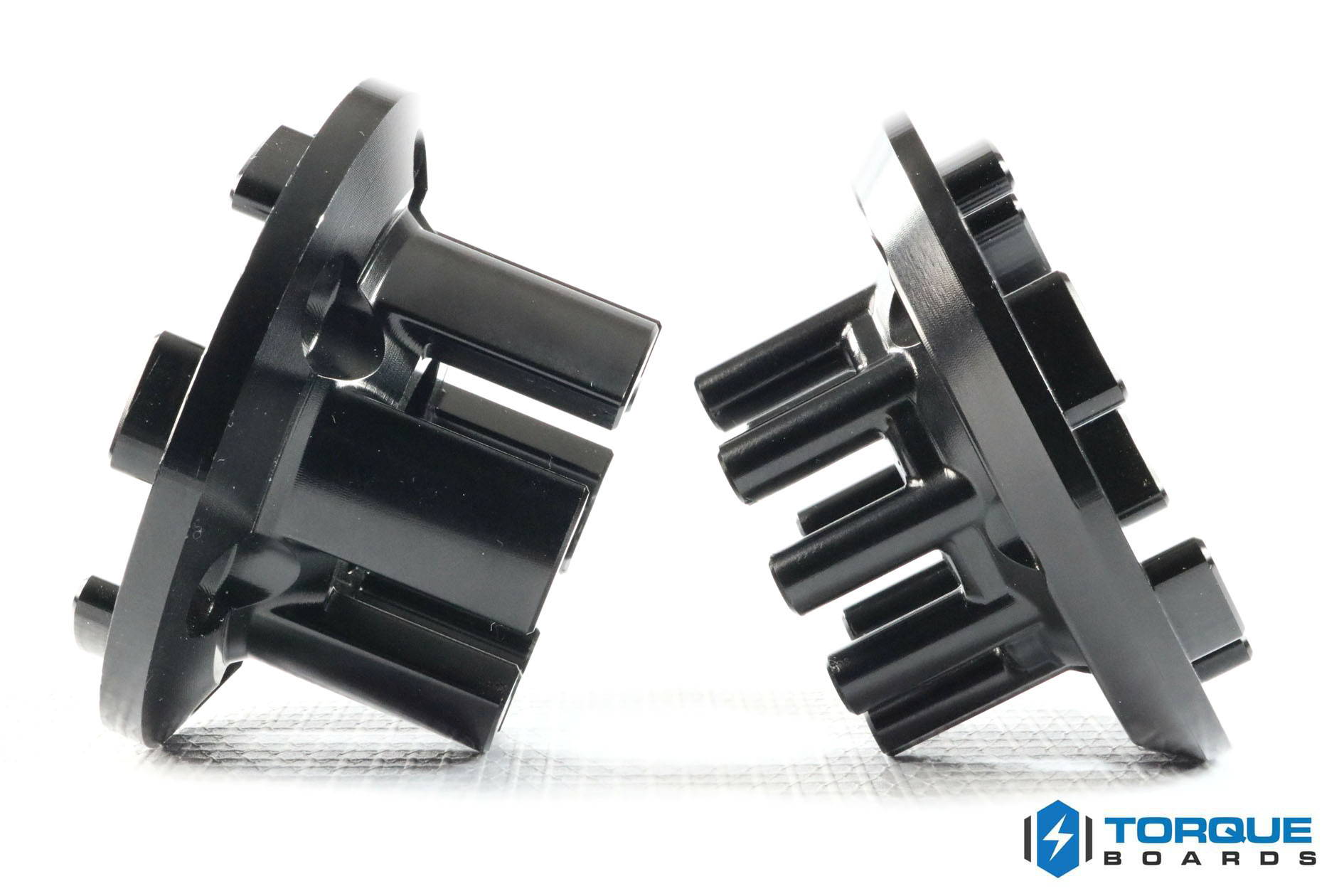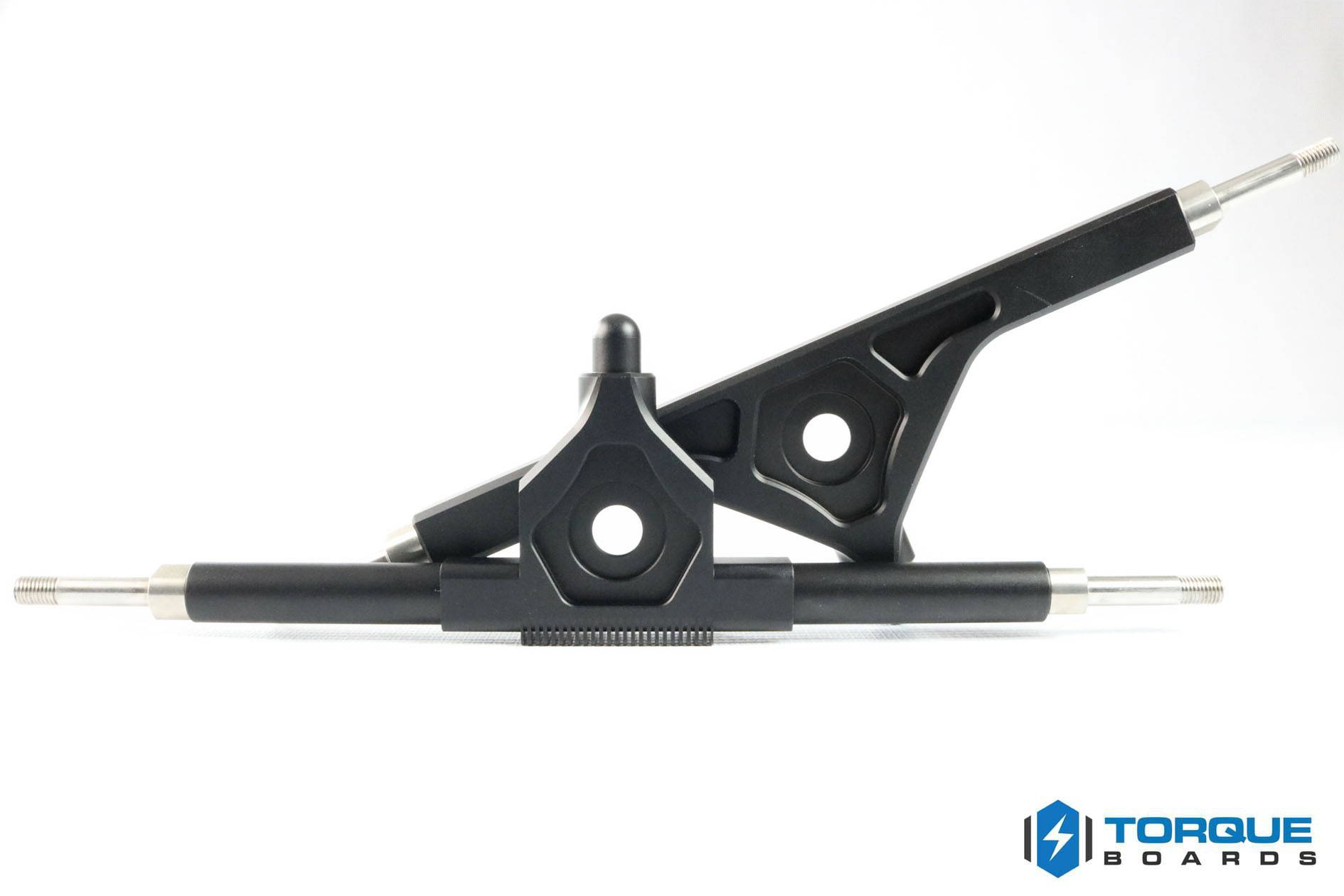 18/16MM 7075 Aluminum MOTOR HANGER Axle

What's better than supporting your powerful direct drive motors on a very thin longboard axle?
Our 7075 Aluminum Hanger with a step from 18mm square to a 16mm diameter to support our powerful direct drive motors.

The aluminum hanger also helps to directly dissipate heat into the motor hanger for immediate cooling on our aluminum hanger and into our heatsink design.
Riptide Bushings & Pivot Cups
$31.95 VALUE

American made RipTide Bushings & Pivot Cups come standard in our Precision CNC Trucks.

Great Bushings & Pivot Cups can make or break a Longboard Truck setup.
No need to upgrade your bushings or pivot cups.
Includes RipTide Caliber II Pivot Cups WFB 90A
Includes RipTide 90A Krank Street Barrel Bushings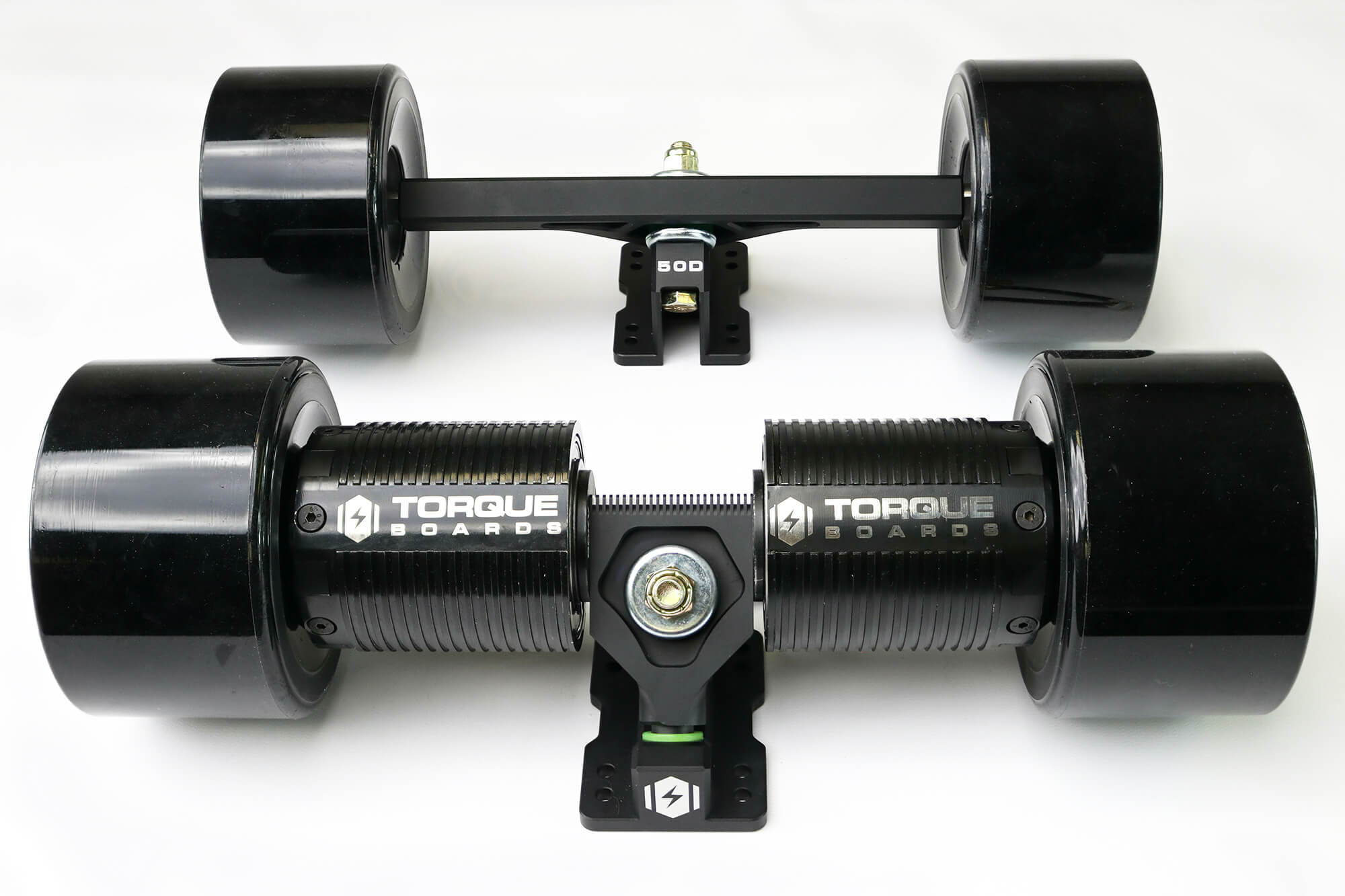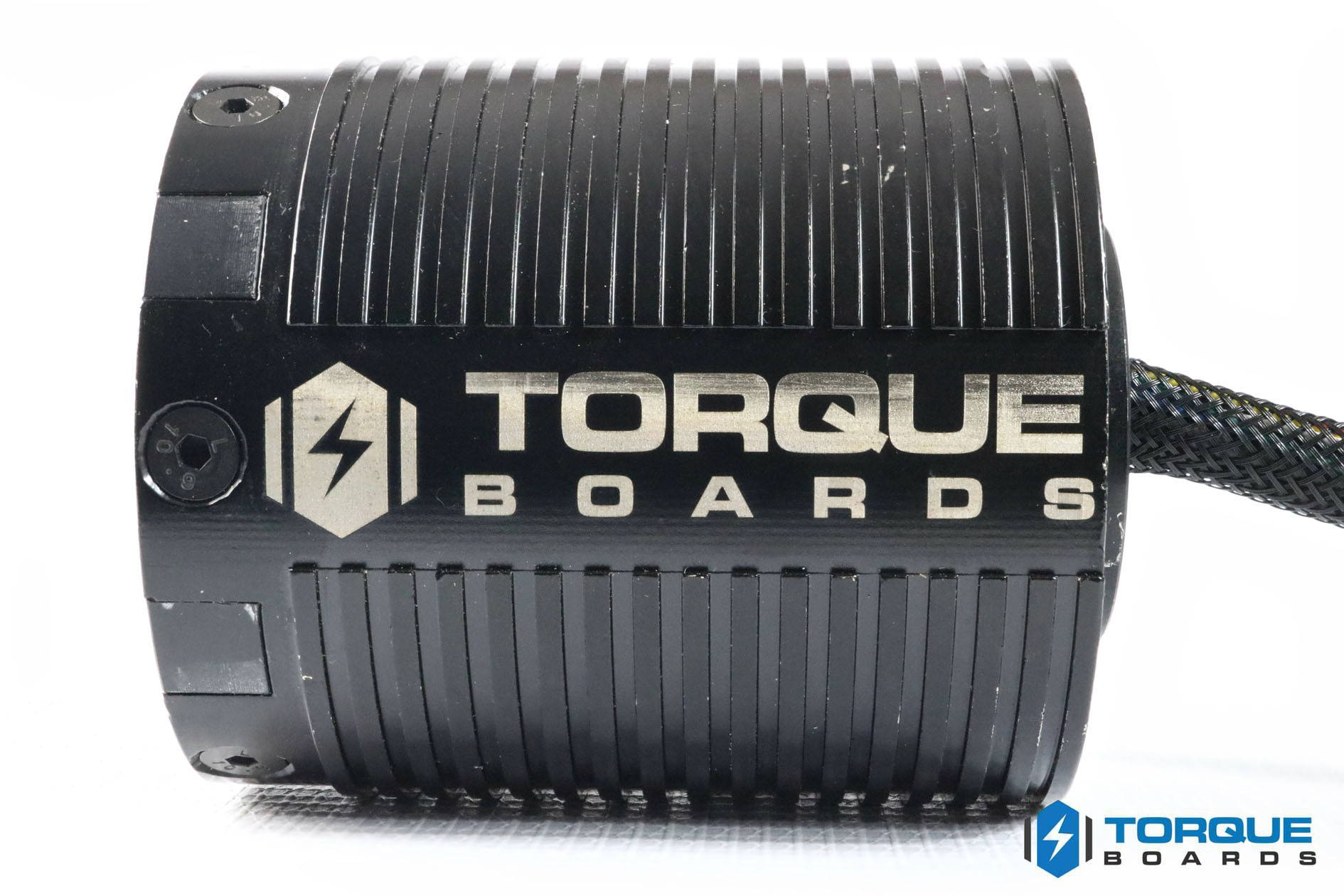 MOTOR UPGRADES & FEATURES

One of a kind... custom designed direct drive motor system built from the ground up with a focus on performance and reliability.
We've used strong curved neodymium magnets for high temperature applications. Maximized Magnet Diameter for increased magnetic field for more power and torque.
Built in heatsink into our stator core axle with cooling with a heatsink on our ultra thick 4mm motor can and direct heatsink of the stator core axle to the aluminum hanger as well.
Due to our motor design there's no need to worry about overheating your motors. We also have Built In Hall Sensors with Temperature Sensors.

Included in this kit is the following:
- 2x TORQUE D-DRIVE MOTORS FOR A DUAL DIRECT DRIVE MOTOR DRIVE TRAIN
- 1x FRONT & REAR PRECISION CNC TRUCKS w/ 50D BASEPLATES
UPGRADES AVAILABLE...
- UPGRADE with 110mm TORQUE WHEELS (TB110)
- Add-on Two Additional Wheel Core Adapters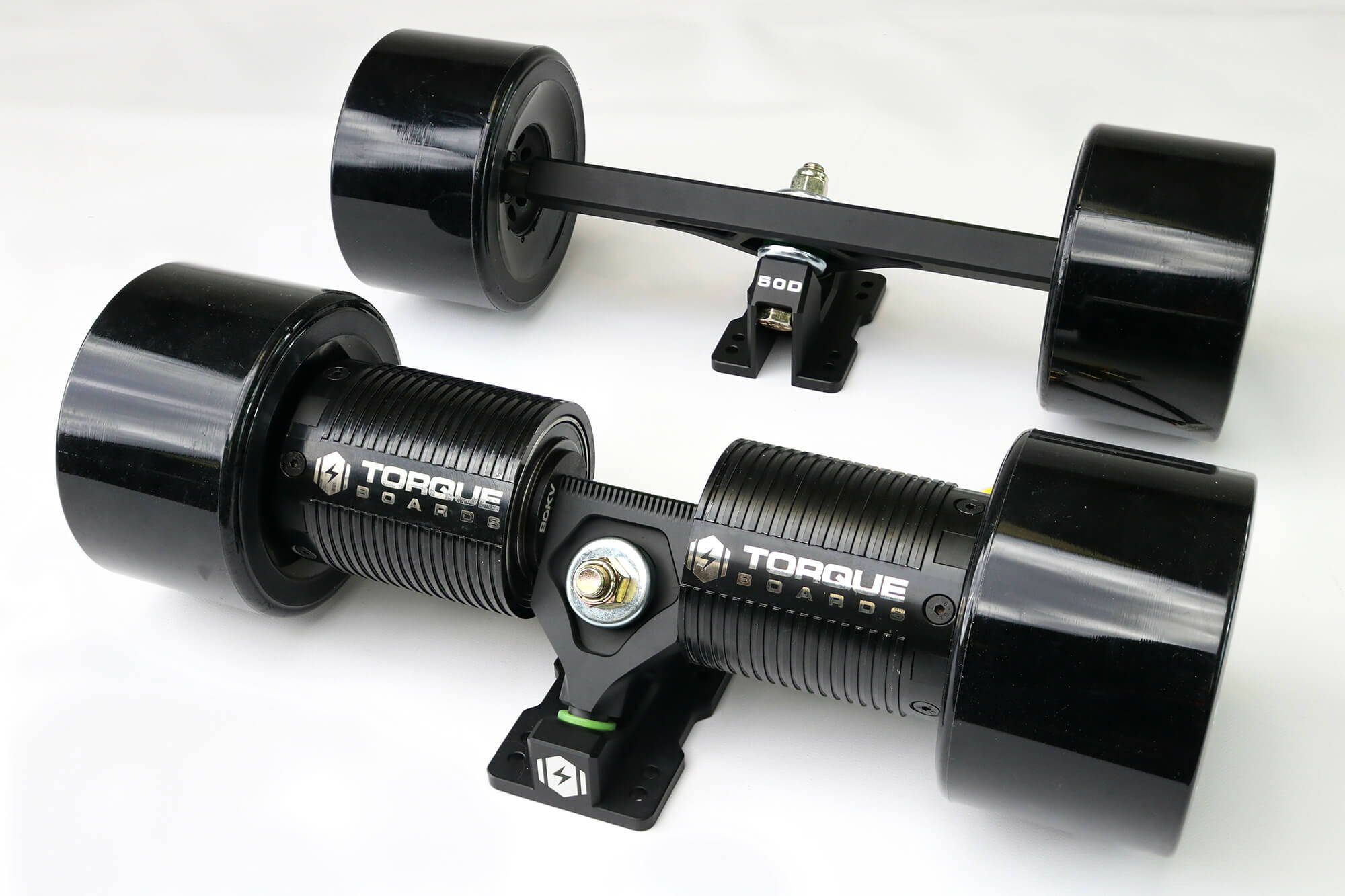 WHY A Direct Drive System IS SUPERIOR TO HUB MOTORS?
Choosing a direct drive system over an in-wheel hub motor fixes many inherit problems with in-wheel hub motors.
1. Increased Durability and Reliability
- Direct Drive Motors have the ability to use a thicker axle for our direct drive motors.
VS In-Wheel Hub Motors typically sit on an 8mm-10mm Extra Long Longboard Axle.

2. Superior Heat Dissipation
- Ability for the direct drive motor to directly dissipate heat into the aluminum hanger while the motor can itself is exposed to air cooling.
VS In-Wheel Hub Motor cannot effectively dissipate heat into the axle which makes it difficult to get rid of heat while the motor can is enclosed in urethane which doesn't allow for heat to dissipate as effectively.

3. Full & Thicker Urethane Wheels
- Direct Drive Motors are able to utilize a full urethane longboard wheel.
VS In-Wheel Hub Motors will typically lacks space and can only fit about a 10-15mm thick urethane wheel.

4. Swappable Urethane Wheels

Direct Drive Motors have the ability to change wheel core adapters to utilize full urethane for different longboard wheels that typically have an ABEC or KEGEL Wheel Core.
VS In-Wheel Hub Motor's that typically require a custom made wheel which can only be purchased from specific companies.
After working countless hours on both an in-wheel hub motor design and direct drive motor design.
We ultimately settled upon focusing on a direct drive system due to the problems we've experienced above in the past.