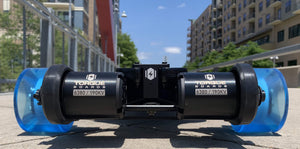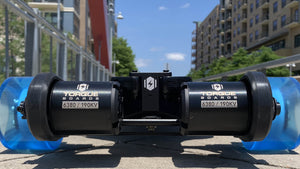 READY TO SHIP in 1-2 days
PRE-BUILT DIY BOARD 35+ mph, 20-25+ mile range.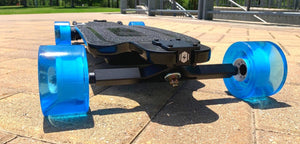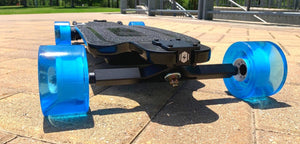 Advanced Performance Setup
ELECTRIC SKATEBOARD PARTS & KITS
Need help building an electric skateboard? Our Electric Skateboard Kits will help make this process easier. Feel free to send us an email and we are more then happy to help you build your electric skateboard or electric longboard from start to finish.
We offer bolt on motor mounts to build a High Performance Electric Longboard which you can put on any longboard or skateboard deck. Our motor mounts allow you to fit a common Remote Control (RC) Motor onto your skateboard/longboard trucks which will be powered by a belt from the motor shaft to the drive wheel.
That's mainly the hardest part of building your own electric skateboard. We have struggled and learned from all our mistakes which make us qualified to help beginner's build their own electric skateboard.
If you are an experienced builder, you can simply use our electric skateboard parts and customize your build with your imagination. We do our best to provide instructional electric skateboard videos, electric skateboard wiring diagrams and photos of other builds that help inspire you to create your own customized electric longboards. Our durable and reliable Electric Skateboard Kits allow you to customize and build your own personal electric longboard with ease.
Easy and simple installation. Bolt on your longboard trucks as well as your bolt on motor mounts for single or dual motors and done!
Most durable and reliable bolt on motor mounts available! We use 7075 Mil Spec Aircraft Grade Aluminum that way our motor mounts are the toughest and strongest they can be.
Choose a single or dual mechanical kit. Single motors can reach 24+mph and high voltage dual motor setups can reach 35+mph.
Cruise and Enjoy Riding A DIY Electric Skateboard. With a range of 6 to 20 miles per charge (depends on your battery setup).
A complete electric skateboard is capable of 20mph to 35+ mph, a range of 6 miles to 20+ miles per charge with the ability to climb 20-30% hill inclines (depending on build setup). Best of all, these electric longboards have braking abilities through a wireless handheld remote controller which is one of the most amazing aspects of having an electric skateboard.
Start Here! How To Build An Electric Skateboard