TORQUE6 HIGH PERFORMANCE ESC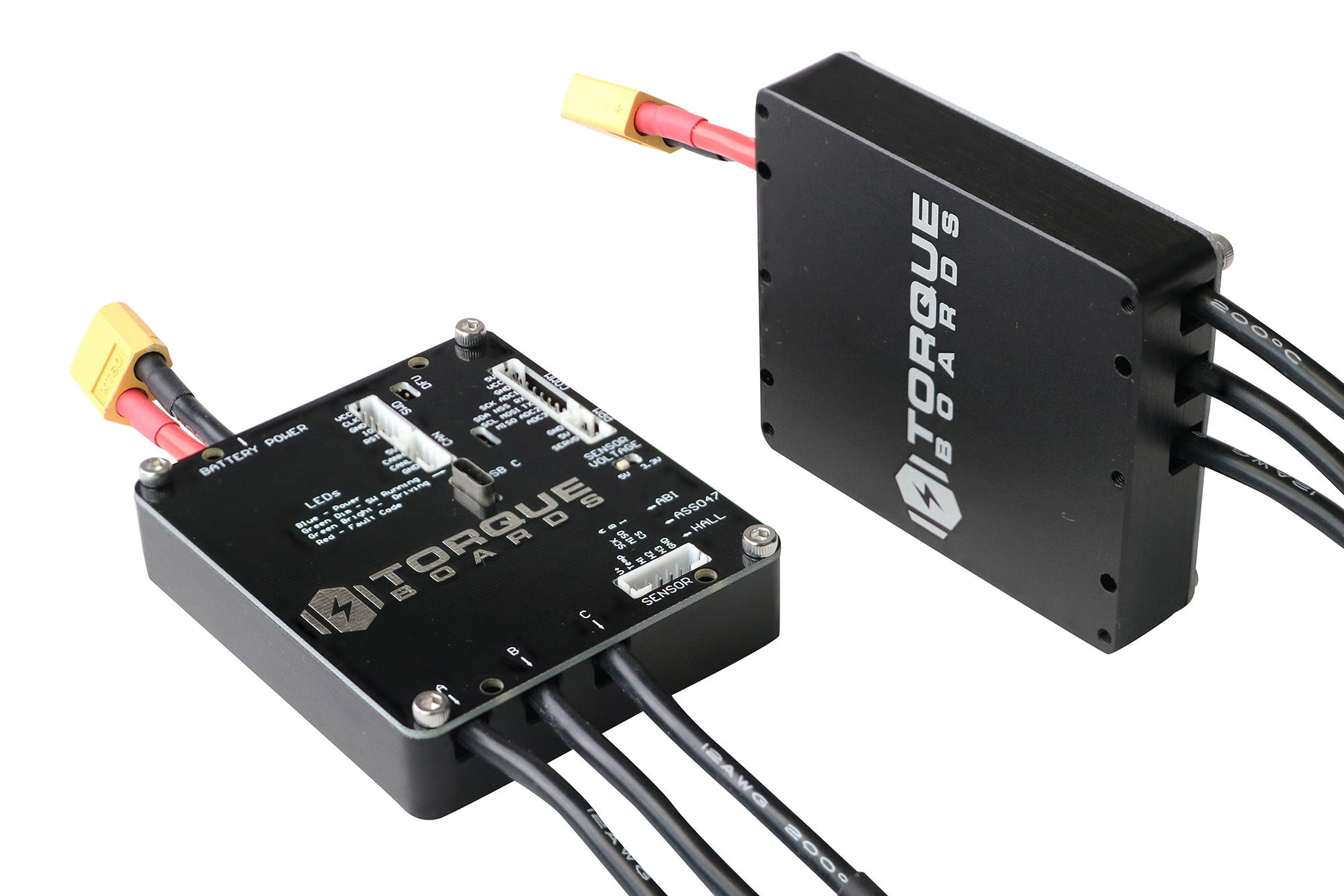 TORQUE6 "RELIABLE HIGH PERFORMANCE"
Electronic Speed Controller
OUR OWN One of a kind... CUSTOM DESIGNED
ELECTRIC SPEED CONTROLLER BUILT FOR HIGH PERFORMANCE WITH A FOCUS ON RELIABILITY.
Why You Will Love The TORQUE6 ESC!
We are proud to release our TORQUE6 ESC which has been designed and based upon the VESC® Open Source Project. TORQUE6 ESC is compatible with the VESC® Software. We've spent countless hours and iterations on building a truly reliable electronic speed controller that will survive the daily abuse of your daily commute, aggressive leisure or pure performance builds.

TORQUE6 ESC provides impressive upgrade on torque and smoother acceleration while being built for reliability and long-term durability. TORQUE6 ESC is a huge improvement over our previous TORQUE ESC (v4.12) which can be easily noticed on your first ride.
Our TORQUE6 ESC handles all builds flawlessly and have been tested on high power, high performance 2WD and 4WD Electric Skateboards as well as 2WD and 4WD Mountain Boards with oversized 9" Tires.
For extra ESC cooling, we have also developed a TORQUE6 External Heatsink for those who are extremely aggressive on the throttle and would like even better ESC cooling performance.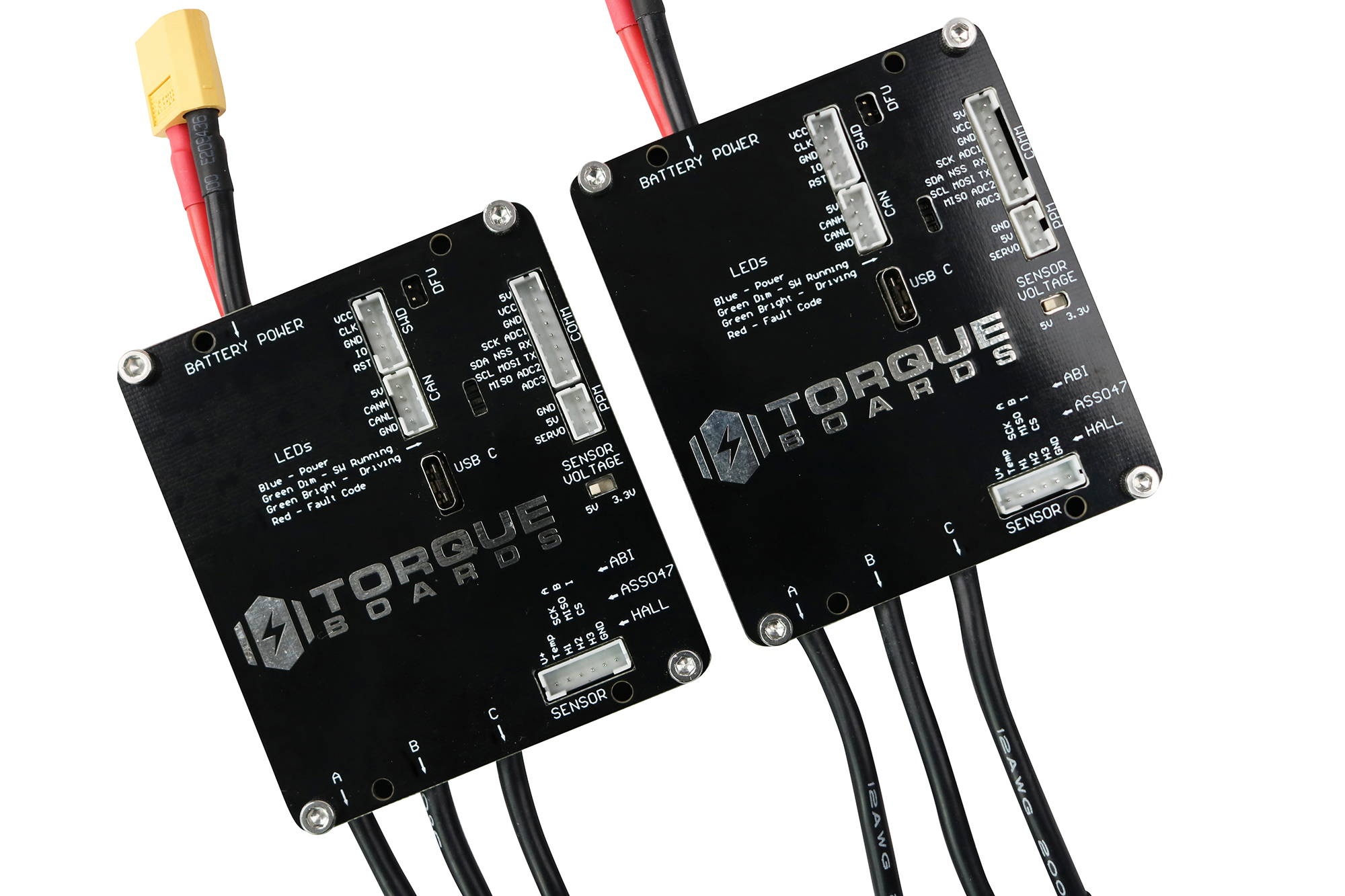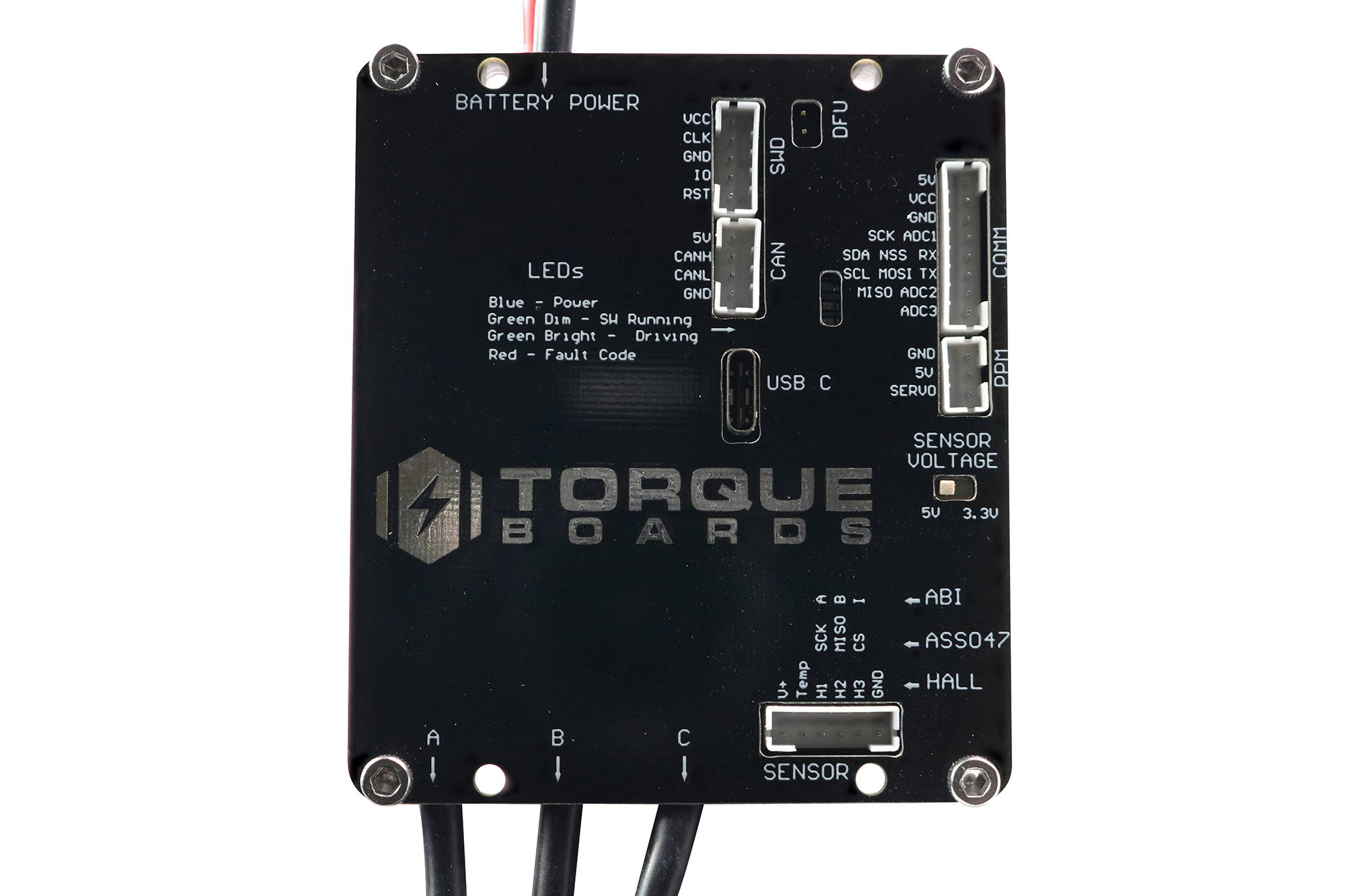 HARDWARE -
V6 Hardware VESC® Open Source Project
FIRMWARE - v5.1 Firmware
CONTINOUS AMPS - 80A AMPS
PEAK AMPS - 150 AMPS
MAX VOLTAGE - 12S (50.4V)
DIMENSIONS - 80mm Length x 70mm Wide x 18mm Height
MOTOR WIRES - 5.5mm Bullet Connectors
POWER WIRE - XT60 Connector
CONNECTORS - JST-PH 2.0mm Pitch
*All Specs and for a Single ESC. Dual ESC requires 2x TORQUE6 ESCs.
SINGLE or DUAL CONFIGURATIONS
We built our ESCs to still run in a single or dual ESC motor configuration. This means you can use a single TORQUE6 ESC for a single motor electric skateboard and upgrade to a dual motor electric skateboard for a future upgrade.
You can also run dual TORQUE6 ESCs for a dual motor electric skateboard which is definitely the most popular configuration.
By utilizing single ESCs , you can easily swap or replace ESCs for any reason. It gives you true flexibility with your ESCs for upgrading or downgrading which is a great convenience especially if you have more than one electric skateboard.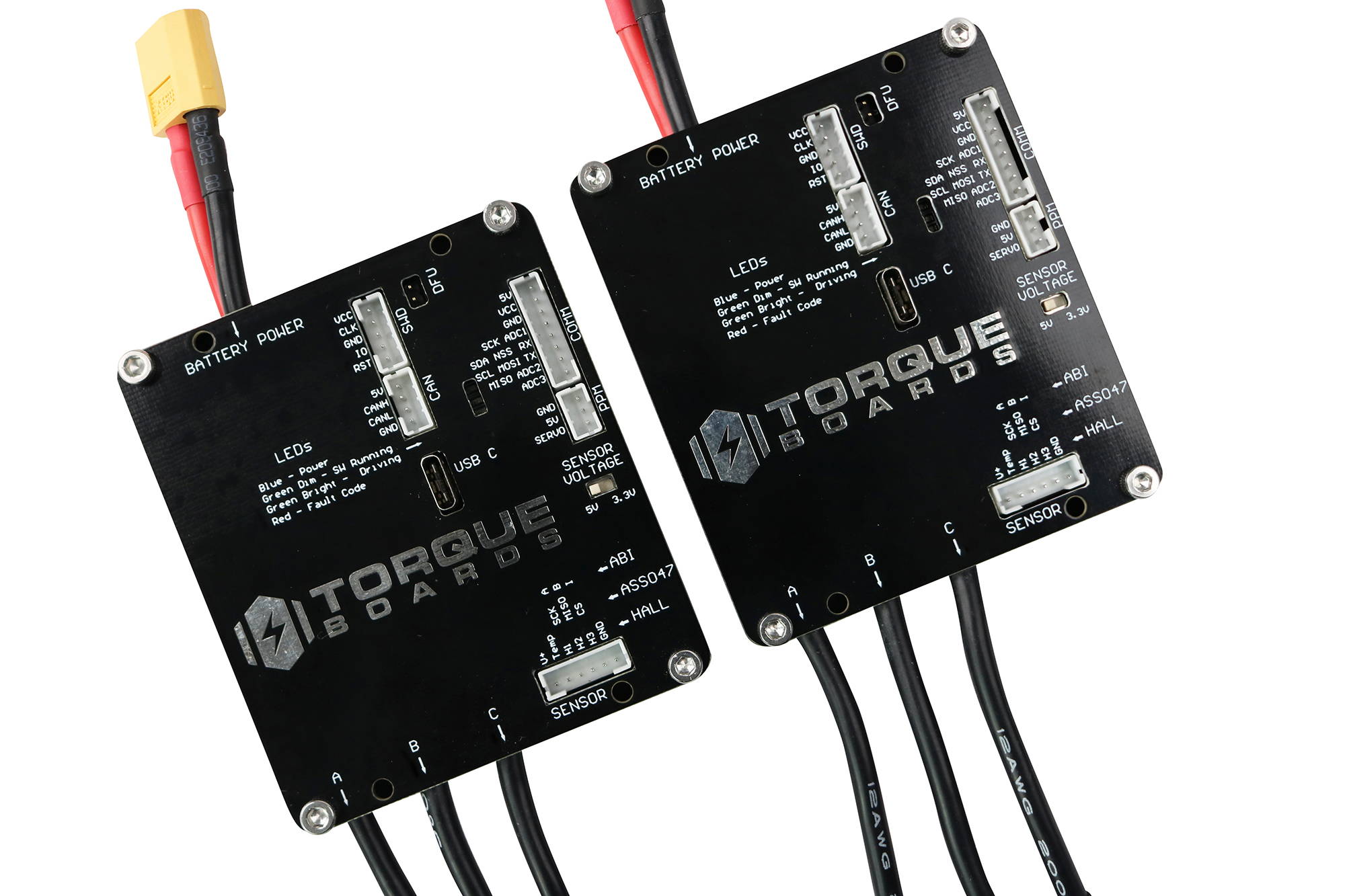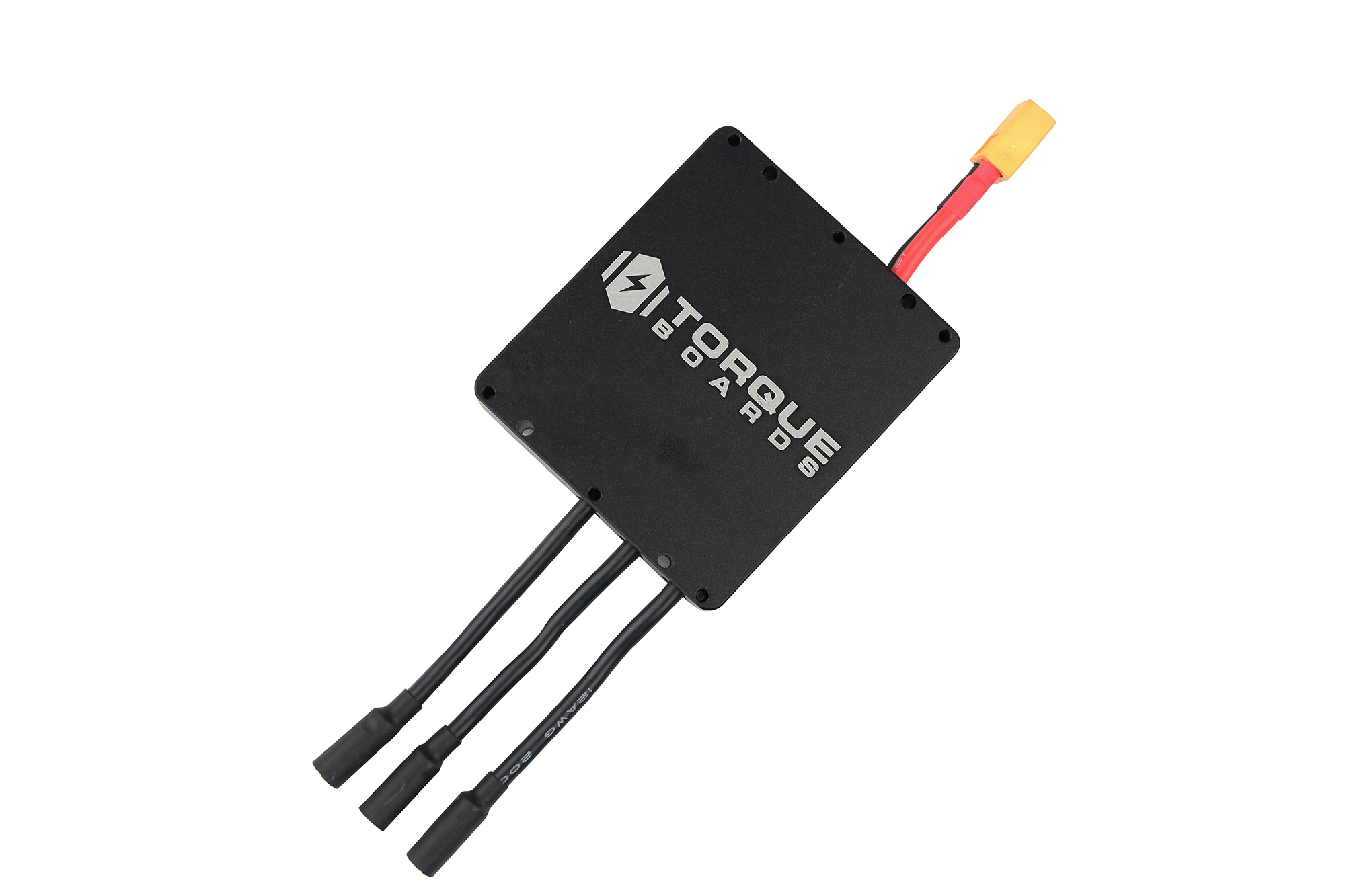 Each of our TORQUE6 ESCs are enclosed in an Aluminum Heatsink for high thermal dissipation and paired with a high thermal conductivity thermal pad.
Our TORQUE6 ESC PCBs inside the heatsink enclosure are bolted down and all components are secured with foam pads to make our ESCs handle any and all vibrations while riding an electric skateboard for thousands of miles.
We do want this to be the last Electric Skateboard ESC that you will need to purchase for the life of your electric vehicle.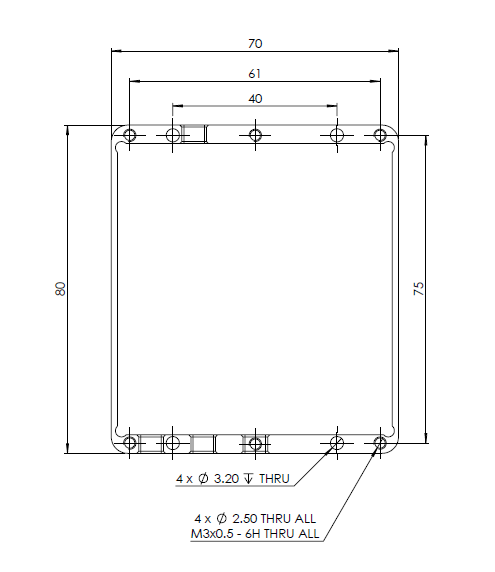 SINGLE TORQUE6 ESC SETUP:

- 1x TORQUE6 ESC $135.00
- 1x TORQUE6 PPM Connector (INCLUDED)


TOTAL = $135.00
DUAL TORQUE6 ESC SETUP:


- 2x TORQUE6 ESC $135.00
- 1x TORQUE6 PPM Connector (INCLUDED)
- 1x TORQUE6 CANBus Connector (INCLUDED)
- 1x TORQUE6 Dual XT60 Parallel Connector (INCLUDED)


TOTAL = $270.00